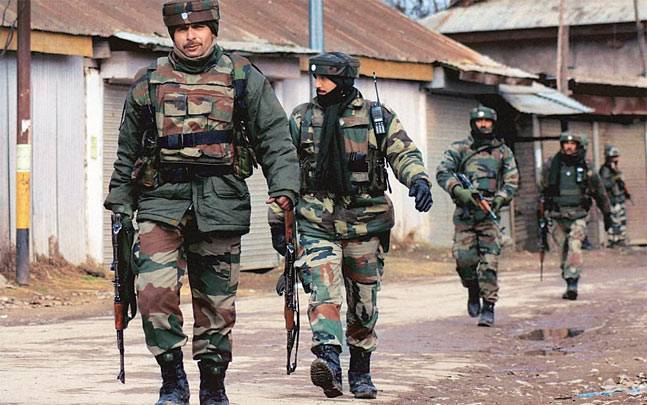 Aimed at clearing South Kashmir of militants and protestors, the Indian Army today launched operation 'calm down' and quietly moved an entire brigade into the trouble-hit region as part of the operation.
More than 50 deaths have been reported from South Kashmir after the unrest broke out in Kashmir valley in the aftermath of Hizbul militant Burhan Wani's killing on July 8 by Indian security forces.
More than 70 people have lost their lives in the ongoing unrest in Kashmir till this date.
According to official sources, the Army has been given clear instructions to use minimum force during operation 'calm down'.
The troops, mobilised from reserves, have fanned out in all the four districts of South Kashmir--Pulwama, Shopian, Anantnag and Kulgam. These districts have borne the brunt of the current spiral of violence in the Valley triggered by the encounter killing of Burhan Wani, who hailed from this region.
The army troops assisted by CRPF and the state police are combing the areas minutely and clearing the road blocks put by the protesters by felling trees, electric poles and placing huge boulders and burnt vehicles, to facilitate movement of people, they said.
After "clearing" Karimabad area of Pulwama, the troops have moved into Shopian and Kulgam. The process, which was halted briefly for Bakrid, will resume after the festival, sources said, adding more troops were likely to be pressed into service.
The decision was taken after intelligence reports claimed that Kashmiri youth, armed with batons, stones and petrol bombs, were patrolling the arterial roads leading to the National Highway and preventing people from venturing out of their homes or moving towards Srinagar.
There were reports that around 100 militants had crossed into South Kashmir since the unrest broke out after Wani's killing on July 8.
The areas where they were suspected to be hiding included Heff-Shrimal in Shopian district, Samboora, Lillahar, Pulwama town, Tral and Kakpora of Pulwama district, Qaimooh and Redhwani in Kulgam district and Redhwani in Anantnag district.
Dotted with poplar and pine trees, the adjoining jungles provide the militants a perfect setting for training recruits, officials said. There was information that militants were being trained in Kamla forest of Shopian district but when raids were conducted, nobody could be found.
According to reports, militants crossed over to Pulwama district of South Kashmir from Pakharpora of Budgam district in Central Kashmir and later fanned out to other areas facilitated by the absence of security personnel on ground, they said.
(With PTI inputs)