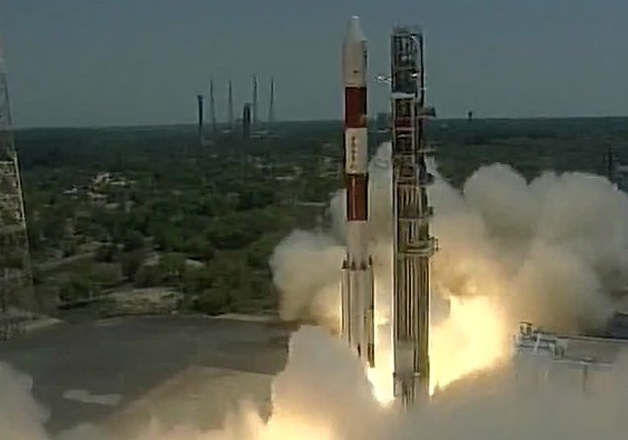 Sriharikota (Andhra Pradesh): It was a historic occasion at the Indian space centre when an Indian Polar Satellite Launch Vehicle (PSLV) rocket lifted off successfully with the country's seventh and final navigation satellite, IRNSS-1G, from the rocket port here. With this launch, India now owns its independent satellite navigation system.
The PSLV C 33 rocket carried the seventh satellite of the IRNSS series precisely at 12:50 pm. The 1425 kilogram satellite, standing 44.4 metre tall and weighing 320 tonnes was ejected by the launch vehicle around 20 minutes after take off.
Named the Indian Regional Navigation Satellite System (IRNSS), it consists of a constellation of seven satellites of which six - IRNSS-1A, IRNSS-1B, IRNSS-1C, IRNSS-1D, IRNSS-1E and IRNSS-1F- have already been put into orbit. The seventh satellite in the series - IRNSS-1G - weighing 1,425 kg is expected to soon join the other six.
Soon after the launch, Prime Minister Narendra Modi congratulated ISRO scientists. "We will determine our own paths powered by our technology with this successful launch. Its a great gift to people. This is a precious gift given by Indian scientists to the people of nation," he said.
PM Modi said the navigation satellite will be known as 'Navic'.
"In space science, our scientists have achieved many accomplishments. The world will know it as Navic," Modi said.
He also congratulated the nation and ISRO personnel for this spectacular success.
"First and foremost I want to congratulate all ISRO scientists and the entire team. I also congratulate the people of India," Modi said.
Just over 20 minutes into the flight, the rocket would put IRNSS-1G into orbit at an altitude 497.8 km. The satellite's life span is 12 years.
The constellation of IRNSS is similar to GPS of the US, Glonass of Russia, and Galileo of Europe as well as China's Beidou. India can now take pride in formally joining the select group of nations once IRNSS is declared operational after checking the systems-space (satellites), ground (ground stations) and the user end signal receivers.
Only on declaration of the system as operational, user end signal receiver makers will seriously get into manufacture of the equipments for use at the retail end
The system will provide accurate position information service to users across the country and the region, extending up to an area of 1,500 km. The full system comprises of nine satellites seven in orbit and two on the ground as stand-by.
The applications of IRNSS are: terrestrial, aerial and marine navigation, vehicle tracking and fleet management, terrestrial navigation for hikers and travellers, disaster management, integration with mobile phones, mapping and geodetic data capture and visual and voice navigation for drivers.