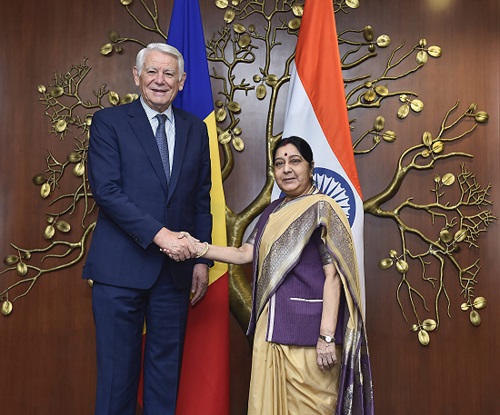 Romanian Foreign Minister Teodor Melescanu, who was on a four-day visit to India, said India is one of their top priorities and an important international player on the global stage. 
In an exclusive interview to India TV, Teodor said 2018 was a good and efficient year for bilateral relations between India and Romania. 
"It is a pleasure to visit India. 2018 was a good and efficient year from the point of view of our bilateral relations. Besides the fact that we are celebrating 70 years of the beginning of our relations, we are also celebrating five years of strategic partnership with India," he told India TV.
"One of the top priorities of Romanian government is the development of our relations with countries like India which is one of the most important international players in the international scene," he added.
The Romanian foreign minister also said 450 Indian companies were now Romanian companies and now a part of their economy. 
"These companies are covering important fields like pharmaceuticals, tourism, IT. I will thrive to get in touch with different companies so as to develop these relations further."
Expressing hope to further develop bilateral relations, he said his proposal is to try and agree on a kind of schedule which will permit both the countries to follow very closely the possibilities to better the relationship.
We are counting on India very much also on the values and spirituality promoted by India, Teodor said.
FULL INTERVIEW: Romanian Foreign Minister Teodor Melescanu​ speaks on bilateral relations with India and more