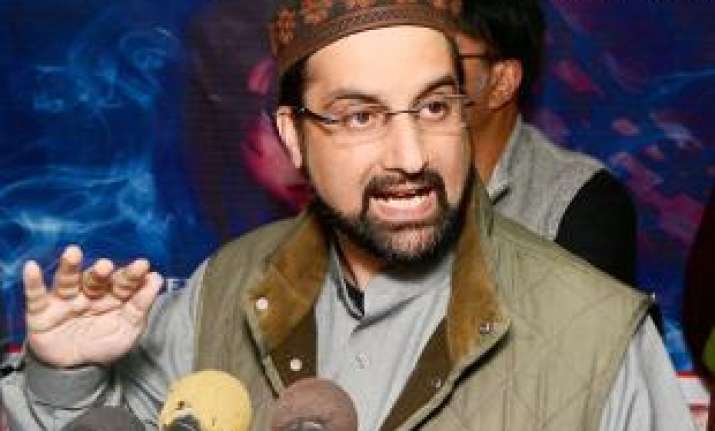 New Delhi: Moderate Hurriyat Conference today said that both India and Pakistan need to engage in "serious" and "result-oriented talks" to settle all issues pending for decades, including Kashmir, and hoped that the composite dialogue announced during Foreign Secretary-level talks will be a "milestone" in realising this dream.
After his meeting with Pakistan High Commissioner Abdul Basit here , Hurriyat Conference Chairman Mirwaiz Umer Farooq told reporters, "We have time and again demonstrated that we are not against talks between the two countries and in fact we sincerely believe that dialogue is the only mechanism with which the two countries can solve all issues."
Mirwaiz, who was accompanied by several separatist leaders, including Abdul Gani Bhat and Maulana Abbas Ansari, made it clear that Kashmir-specific Confidence Building Measures (CBMs) need to be taken by India and Pakistan.
"Any tough posturing by either side will do no good to ensure peace and stability in South Asia. And while talking about Kashmir, both the sides need to keep in mind that aspirations of the people of Jammu and Kashmir need to be taken into account," he said.
To a question on their claims to be representative of Kashmiri people, he said, "First of all its not a claim and secondly, if we have no support base, then why is Kashmir an issue between India and Pakistan."
He said the special investigation team coming from Pakistan in connection with Pathankot airbase attack was an important step.
"I hope that both the countries work together seriously and nail the culprits behind the attack on Pathankot airbase. Such forces were detrimental to the ongoing peace process between the two countries," he said.
Mirwaiz regretted that the meeting of Hurriyat Conference leaders with Pakistan High Commissioner Abdul Basit was seen by some quarters in the country with suspicion.
"Come on, I wonder where has the all the wisdom vanished. We are trying to bring India and Pakistan closer and these people label us as traitors and what not. Finding storm in a cup of tea is unwarranted," he said.
On government formation in the state, Mirwaiz said, "The issue is not about building roads and bridges in Kashmir. Its about finding a permanent settlement and I am only hoping that the two countries understand the need of hour and get engaged in a serious and result-oriented dialogue to settle all issues.
Mirwaiz also expressed the hope that the Narendra Modi government would now carry forward the spirit of Atal Bihari Vajpayee's vision of settling the dispute within the parameters of humanity.
"We have always welcomed the dialogue process between India and Pakistan. We hope the two counties would evolve the ways and means to include the people of Kashmir in the composite dialogue process as we firmly believe the vision of Vajpayeeji would be carried forward in which he had said that the Kashmir issue should be settled within the parameters of 'insaniyat' (humanity) which is much bigger than the parameters set by the Constitution," he said.
Hardline Hurriyat Conference Chairman Syed Ali Shah Geelani, along with his set of leaders, met Basit in the afternoon, ahead of this meeting.