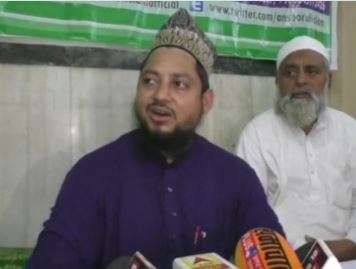 Imam of Bareilly Jama Masjid on Monday issued a fatwa against Nida Khan, a triple talaq victim and said she was ostracized from Islam.
"Nida Khan (triple talaq victim) has been ostracized from Islam because she has been regularly speaking against the religion and its practices. A fatwa has been issued against her," ANI quoted Khurshid Alam, Imam of Bareilly Jama Masjid, as saying.
Khan was divorced by her husband, Sheeran Raza, through triple talaq in 2016. He is from the family of the head of Aala Hazrat. She had contested the divorce in the civil court. 
Khan had alleged that after being assaulted by her husband in 2015 she had suffered a miscarriage. She has been highlighting the plight of triple talaq and nikah halala victims ever since, inviting the ire of clerics. 
YOU MAY ALSO LIKE TO READ: Monday Talk | Lok Sabha elections 2019: 'I don't think Rahul Gandhi wants to go with AAP at all,' says Sheila Dikshit
Meanwhile, Goa Chief Minister Manohar Parrikar on Monday said there is no practice more inhuman than triple talaq and claimed that Muslim women in Uttar Pradesh helped the BJP sweep the state polls after the passage of a law against the practice.
"We will have to approach the minorities. There are efforts to inflame passions... Triple talaq is inhuman. There is no practice more inhuman than triple talaq. Even the Supreme Court has passed strictures against it. When Modi ji brought the law after the Supreme Court verdict, it too was obstructed," Parrikar said.
"In Uttar Pradesh, Muslim women supported the Bharatiya Janata Party in a big way because they had to suffer due to the practice. It is not that it (triple talaq) is prevalent only among the uneducated and poor. It happens in educated societies too," the Chief Minister said, reported IANS.
WATCH VIDEO: Aaj Ki Baat with Rajat Sharma | July 16, 2018