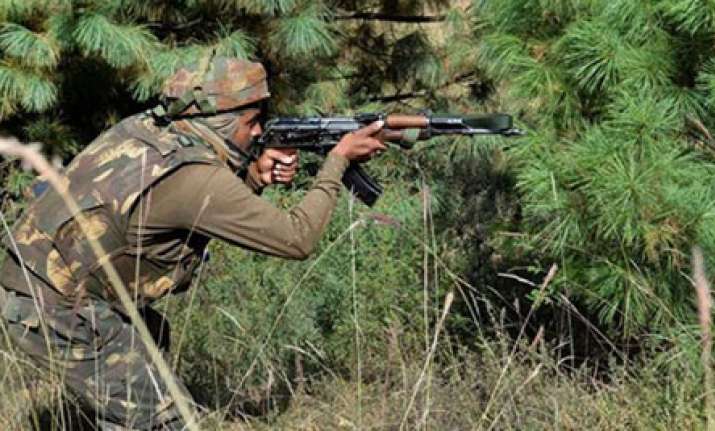 Hundreds of angry residents of hamlets along the border today protested after four civilians were killed and 12 injured in heavy Pakistan mortar shelling, demanding stern action against the neighbouring country for targeting innocent people. 
The border dwellers carried two of the bodies to Mangu Chak, a Ranbir Singh Pura sector town, and raised anti-Pakistan slogans as fear and anger gripped the hamlets. 
They said Pakistan should be taught a lesson so that it stops targeting civilian villages. 
The shelling and firing by Pakistani troops along the international border comes ahead of Prime Minister Narendra Modi's visit to Jammu and Kashmir tomorrow.
The protesters also accused the Mehbooba Mufti government of failure to provide ambulances to save lives. 
The shelling started early this morning and a mortar hit the compound wall of 52-year old Tarseem Lal's house in a Mangu Chak village, severely injuring him and his 45-year-old wife Manjeet. They died in hospital. 
The blood stains had dried up but the house, which had splinter holes and broken windows, bore a mute testimony to the death and destruction caused by Pakistani shelling. 
Another hamlet in Treva in the Arnia sector was hit and two villagers—Sat Paul (60) and Jag Mohan (45) -- were killed when shells exploded in their houses. 
Villages in R S Pura, Suchetgarh and Bishnah sectors also came under fire. Twenty-eight-year-old BSF constable Sitaram Upadhyaya was also killed in the firing. 
The shelling was very heavy and several bullet-proof vehicles were pressed into services to evacuate people to safer places, officials said. 
"Tarseem Lal and Manjeet had just begun their daily chores when a shell hit their compound wall at around 8 am resulting in their death," Surinder Singh, a villager, told PTI.