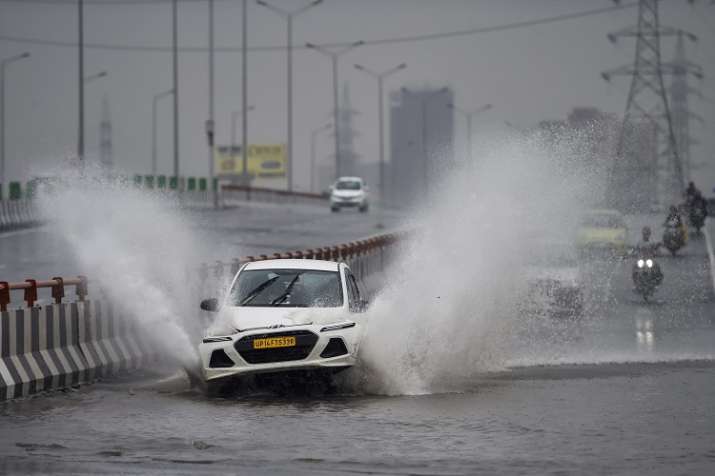 Life was thrown out of gear in the national capital region on Thursday as incessant rains caused widespread waterlogging and traffic snarls. At least two people lost their lives due to rain-related accidents. A road also caved in Ghaziabad's Vasundhara area as rains continued for almost three hours.  
Heavy rains lashed the capital overnight, contributing to waterlogging and traffic snarls at various places in the city today.
According to traffic police officials, vehicular movement was affected at the Vivek Vihar underpass, the Seema Puri underpass and under the Ghazipur flyover.
"Traffic is also affected from Narayana T Point to Loha Mandi due to water logging on the Girdhari Lal Goswami Marg in west Delhi. Commuters should avoid the stretch," an official said.
The traffic snarls were also reported form several other parts of Delhi-NCR. 
Also read | Heavy Rain in Delhi-NCR: 13-year-old dies after water tanker crashes through house's roof in Ghaziabad's Sahibabad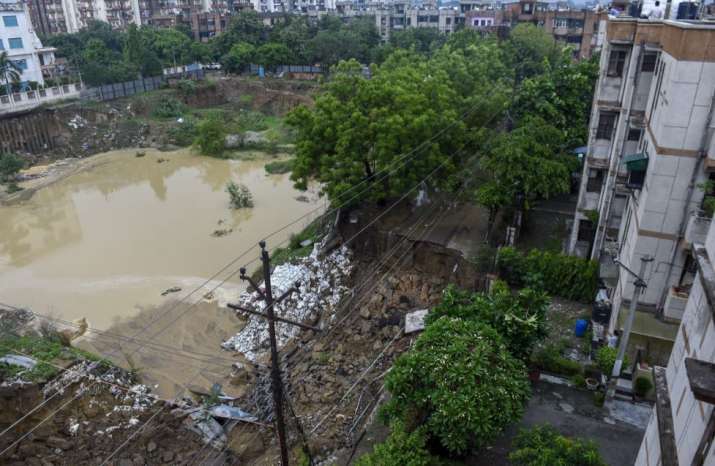 Ghaziabad deaths 
At two people lost their lives in rain related acidents today. 
A 36-year-old man was killed after being electrocuted in Indirapuram's Shipra Sun City. The deceased Saroj Kan Das was coming back home after dropping his daughter to school when he came in contact with water touching a naked wire. 
According to locals, the electricity was cut off 30 mins after the incident. Das was announced brought dead on arrival by a nearby private hospital. 
In another incident, a 13-year-old girl was crushed under the debris of her house as the rooftop water tanker crashed through the house. The roof reportedly gave in under teh weight of the water tank after incessant rains. The tank crashed through two floors of a three-storey house, crushing the girl underneath.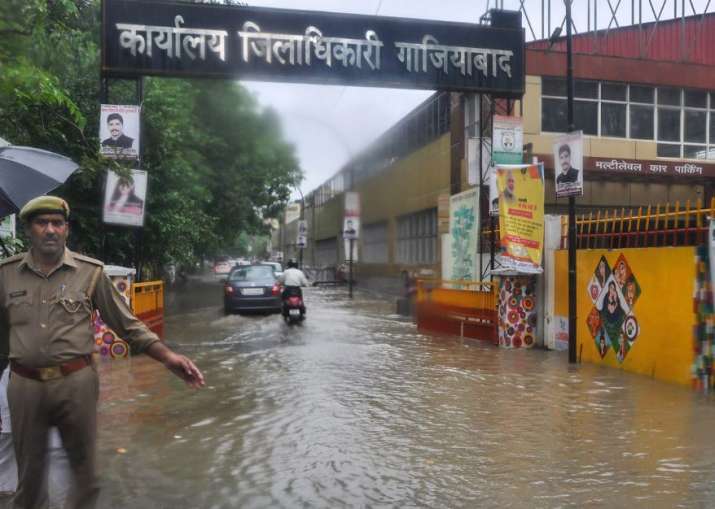 Advisory for rains on Friday: 
In view of the likely rains on Friday, the Delhi Traffic Police has listed out routes to avoid. 
It said that traffic was affected at Ghazipur Murga Mandi, Khajuri Chowk, Modi Mil Under Flyover, SDM office Pushta Road, Raja Ram Kohli Marg from Geeta Colony to Pushta Road, Suraj Kund to Prahlad Pur & Mayur Vihar Ph-II Subway, Slip Road, Minto Road Under Bridge, Chatta Rail, Dwarka More to Road No. 201, Mayapuri Chowk & from Badarpur to Mehrauli, Ashram, Sarai Kale Khan towards Nizamuddin railway station and 11 Murti road. Thus commuters were advised to avoid these routes on Friday as well. 
In Ghaiziabad, the district magistrate has ordered all schools in district till class 12th to remain closed on Friday on account of heavy rains/ adverse weather conditions.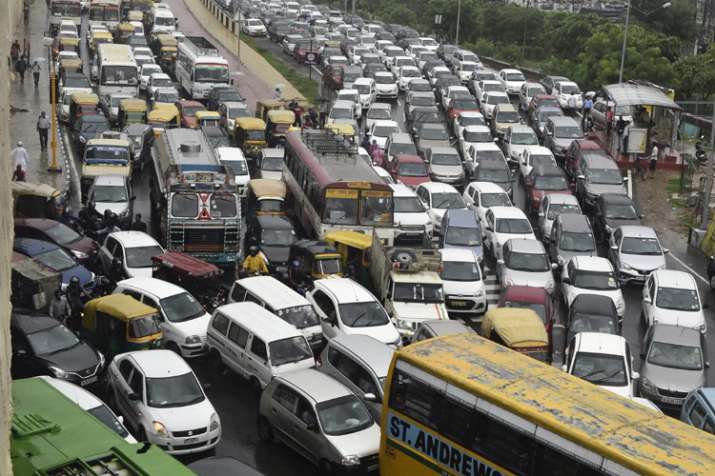 Flood-like situation in Yamuna
Meanwhile, the heavy downpur has caused the flood-like situation in River Yamuna and it is likely to worsen over coming days. 
The Hathni Kund Barrage in Haryana's Yamunanagar district has released 1 lakh 80 thousand cusecs of water as the dam was flowing way above the capacity. The released water is likely to reach Delhi within 72 hours. 
The authorities have alerted the people dwelling in the Yamuna's flood banks to ensure minimum loss to life and property.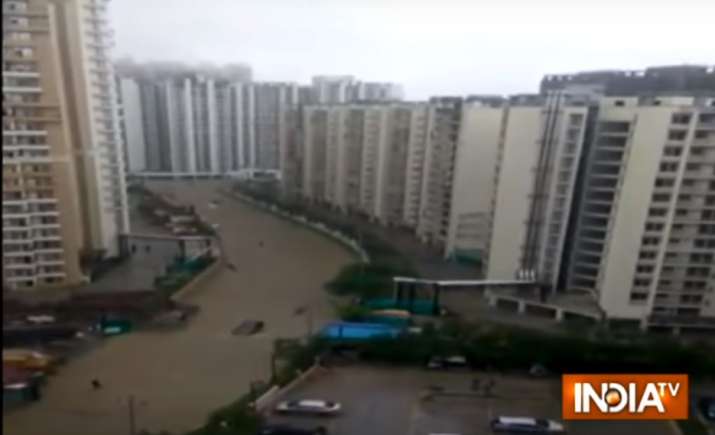 Delhi HC takes suo moto cognizance
Delhi High Court, which had earlier taken suo moto cognizance of water logging in the city, was told today that drainage system in Delhi has a limited capapcity, to which the court inquired if it was possible to increase the volumes?. The reply was filed by Delhi government.
"Looking at newspaper photographs of Minto bridge flooded under water, did not seem like it's Delhi. It looked like a tribal area when we saw pictures of people being rescued from Minto Road. Let's get organised. We want a composite plan. Whose responsibility is this?" the court asked. 
The only good thing was the showers brought much needed relief from the humid weather. The minimum temperature on Thursday was recorded at 26 degrees Celsius, two notches below the season's average. The maximum temperature was expected to hover around 34 degrees Celsius.
With the weather department predicting more rains, Delhiites can expect more trouble.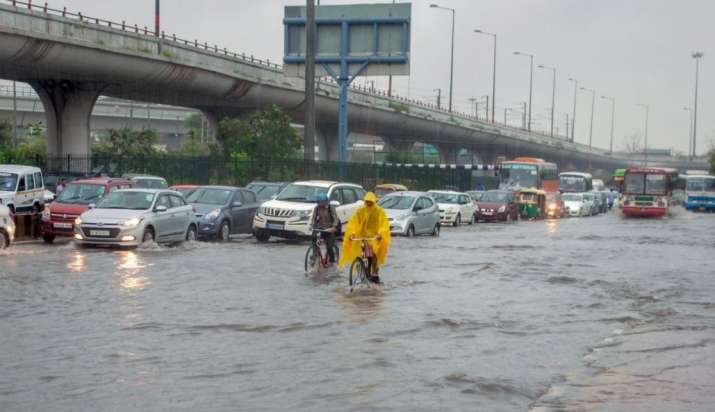 Watch full coverage of heavy rains in Delhi-NCR on Aaj ki Baat with Rajat Sharma: