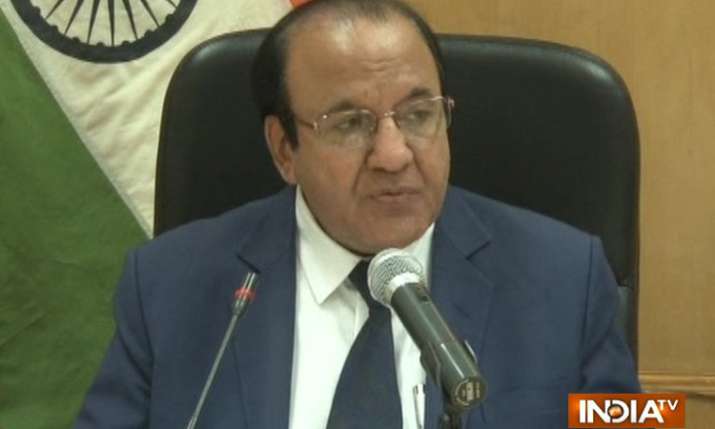 The electorate in Gujarat will exercise their franchise in two phases, Chief Election Commissioner Achal Kumar Jyoti said today, declaring December 9 and December 14 as polling dates and December 18 as the date of counting and declaration of results.
With the announcement of the election schedule, the model code of conduct for Gujarat comes into force immediately.
Chief Election Commissioner AK Jyoti announces dates for Gujarat Assembly elections: AS IT HAPPENED
First phase of Gujarat elections 2017
Last date of filing nominations: Nov 21
Last date of scrutiny of niminations: Nov 22
Last date of withcdrawal of nominations: Nov 24
Polling dates: Dec 9
Second phase of Gujarat elections
Last date of filing nominations: Nov 27
Last date of scrutiny of niminations: Nov 28
Last date of withcdrawal of nominations: Nov 30
Polling dates: Dec 14
Counting of votes to be held on December 18
01:20 pm: Ceiling for poll expenses per candidate is Rs 28 lakh
01:19 pm: Bank officers to keep a try on expenses of candidates.
01:18 pm: Model Code of Conduct comes into force in Gujarat with announcement of poll schedule.
01:16 pm: 102 all-women operation poll stations introduced
01:15 pm: VVPAT machines will be used in the polling.
01:14 pm: Overall, 50,128 polling booths will be set up.
01:13 pm: Differently-abled voters will be given preference at polling stations
01:10 pm:  All voters will be given photo slips before voting.
01:12 pm: CCTVs will be installed at border check posts.
01:07 pm: The term of the current Gujarat Assembly ends on January 22.
With the announcement, the Bharatiya Janata Party-led government in the state as well as the Centre has been barred from announcing sops for Gujarat where the saffron party will seek a record fifth straight term in power.
The Gujarat election is a prestige battle for the BJP, since the state happens to the home turf of two of its tallest leaders - Prime Minister Narendra Modi and BJP president Amit Shah. Shah has set a target of 150 seats for the BJP, up from the 116 seats it had won in 2012. The BJP has been in power in the state since 1995.
The Congress, on the other hand, will be banking on anti-incumbency after two decades in power for a revival of its fortunes. The party had won 60 seats in the 2012 Assembly elections in the state.
Party vice president Rahul Gandhi has been campaigning aggressively in Gujarat, reaching out to sections like the Patels, Dalits and backward castes, seen to be upset with the ruling party. He has also reached out to farmers and traders who have been affected by the government's demonetisation decision and the rollout of the Goods and Services tax (GST).
These past months have also seen the BJP leadership both at the Centre and state announce a slew of measures for the people.
As per reports, the Vijay Rupani government has announced development projects worth Rs 18,000 crore In October alone. These include a Rs 600-crore ferry service connecting Saurashtra and south Gujarat and also interest-free farm loans up to three lakhs, benefiting 25 lakh farmers.
The Election Commission's announcement comes 12 days after it announced the election schedule for Himachal Pradesh that will see a BJP-Congress face-off. While it was widely expected that the dates for polling in Gujarat will be announced along with the schedule for the hill state, the EC delayed it, inviting much criticism.
Chief Election Commissioner AK Jyoti came under direct attack of the opposition who dubbed the poll body's move to defer announcing the poll schedule for Gujarat as an undue favour to the ruling Bharatiya Janata Party.
The CEC rubbished the allegations saying the dates for Himachal were announced early keeping in view the likelihood of three districts of Himachal being engulfed in snow in the later part of December.
Jyoti said the Gujarat government requested the commission to allow it time to wrap up relief and rehabilitation works to help flood victims in the state before polls were announced. "We realised that nearly 26,000 staff would be deployed for elections and flood relief work would get delayed."
Voting for the 68-seat Himachal Pradesh assembly will take place on November 9 and the results will be declared on December 18.