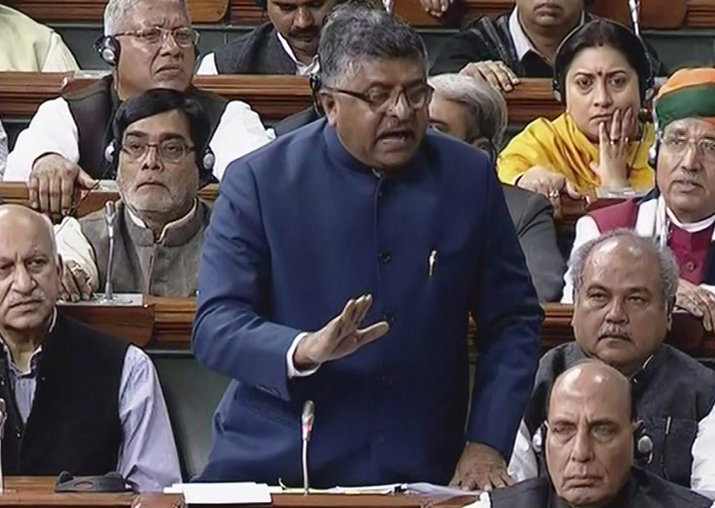 The Lok Sabha today passed the much-waited Triple Talaq Bill.
The Muslim Women (Protection of Rights on Marriage) Bill is listed was introduced in the Lok Sabha by Law Minister Ravi Shankar Prasad.
Earlier today, Prime Minister Narendra Modi called for a consensus in passage of the bill on making instant triple talaq a punishable offence.
The bill, prepared by an inter-ministerial group headed by Home Minister Rajnath Singh, makes instant triple talaq or talaq-e-biddat in any form -- spoken, in writing or by electronic means such as email, SMS and WhatsApp -- "illegal and void" and provides for a jail term of three years for the husband.
Highlights:
7:35 pm-  Lok Sabha passes the Triple Talaq Bill
7:30 pm-  Amendments moved by Congress's Sushmita Dev and CPIM's A Sampath also negated in Lok Sabha  
7:25 pm- Two amendments moved by Asaduddin Owaisi and one by BJD's Bhartruhari Mahtab negated in Lok Sabha
7 pm: If bringing a bill in favour of Muslim women is a crime then we'll commit it 10 times, says Ravi Shankar Prasad
* The Muslim Personal law said they will reform but did not. Therefore, the Parliament is taking action: Ravi Shankar Prasad
* A group of ministers was formed to work on the bill. Though the offence is being made non-bailable, one can still apply for bail from magistrate: Ravi Shankar Prasad
* Why the bill can't be sent to the standing committee when all the parties have demanded it? asks Mallikarjun Kharge
* The bill should be passed since a full-fledged debate has taken place: BJP's Ananth Kumar
* Government is not empowering Muslim women, but handing a tool for Muslim men to be more cruel towards women. This is an attempt to put more Muslim men behind jail!: AIMIM MP Asaduddin Owaisi
* 80% of dowry cases involve non-Muslims and a large number number of non-Muslim brides have child marriages. Why the government is not doing anything about that: Owaisi
* We are being demonised. If there is empirical data, let us place it on record. This government has a vested interest in bringing this bill. Of all the Muslim countries the law minister has named, including Pakistan, none of them have a penal provision for triple talaq. Show me one Muslim country with such a law?: Owaisi
* You are taking away all my personal laws guaranteed by the Constitution: Asaduddin Owaisi
* The bill fails to differentiate between a civil law and a criminal law: AIMIM MP Asaduddin Owaisi
5:40 pm- The slogan 'Islam khatre mein hai' was used before independence to divide India and is now being used to divide society, poison is being spread,said M J Akbar, Union Minister in Lok Sabha 
5:35 pm- What is the credibility of All India Muslim Personal Law Board? Who chose them to be community representatives? Union Minister of State for External Affairs MJ Akbar in Lok Sabha
​
* Like SC said dowry law was being misused and instant arrest must not be done, can we be confident that same will not be done in Triple Talaq cases? I think we need to discuss this: Supriya Sule, NCP MP
4:13 pm: Talaq-e-biddat has nothing to do with religion. It is customary. There should be a law for maulavis witnessing this kind of talaq: Meenakshi Lekhi
* It is high time we do away practices that oppress women. Those opposing the law against triple talaq are speaking language of personal law: Lekhi 
4:05 pm: Women are the biggest minority in this country, says BJP MP Meenakshi Lekhi 
3:55 pm: Talaq-e-biddat has nothing to do with religion. It is customary. Here should be a law for Maulavis witnessing these kind of talaq: Meenakshi Lekhi, BJP MP
3:42 pm: When the SC judgment came, we welcomed it. Today, the Law Minister has brought the triple talaq bill which takes a civil issue like divorce and turns it into a criminal law. The government says it will act as a deterrent. The bill talks about right to subsistence allowance, how will the government ensure she gets it? We are asking these questions since Law Minister Ravi Shankar Prasad disagreed to a standing committee: Congress MP Sushmita Dev
3:30 pm: I thank Kharge ji for supporting the govt on Triple Talaq Bill. Whatever suggestions they have they should tell us here, if fine we can incorporate them in the law: Ravi Shankar Prasad
3:26 pm: Send the bill to the standing committee. All party people will be present there. Give some time, an elaborate consultation of the bill needs to take place. All of us are supporting this bill, but there are certain lacunae which should and can be rectified in the standing committee, we can sit together and sort out in a time bound manner: Kharge 
3:24 pm: All of us are supporting this bill, but there are certain lacunae which should and can be rectified in the standing committee, we can sit together and sort out in a time bound manner: Mallikarjun Kharge, Congress in Lok Sabha
​
* The triple talaq bill should not be seen through the prism of politics and neither should be linked with any religious motive or vote-bank politics: Prasad
3:15 pm: When Islamic countries have regulated provisions of triple talaq then why can't we a secular nation do it? We are not interfering in Shariat: RS Prasad
3:31 pm: About 100 cases of triple talaq have come to light after Supreme Court's verdict: Ravi Shankar Prasad
3:17 pm: "Even countries like Pakistan have regulated triple talaq. A large number of other Islamic countries have regulated triple talaq as well. If they can do so, why can't we as a secular country do so?" asks Ravi Shankar Prasad
3:14 pm: We must understand pain of Muslim women. Today morning I read news that a woman in Rampur was given talaq by her husband just because she woke up late: Ravi Shankar Prasad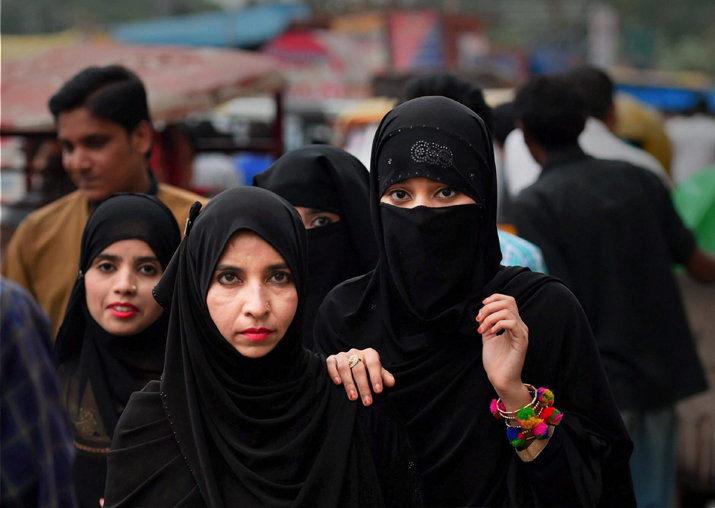 12:50 pm: The Supreme Court had termed Triple Talaq as a 'sin': R S Prasad
12:47 pm: This law is for women's rights and justice and not regarding any prayer, ritual or religion: Law Minister Ravi Shankar Prasad in Lok Sabha
12:43 pm:  This bill is flawed, there are many internal contradictions in the Bill :BJD MP Bhartruhari Mahtab in Lok Sabha
12:38 pm: RJD raises questions on the proposed three-year jail term.
12:36 pm: Asaduddin Owaisi opposes bill saying it violates fundamental rights and lacks legal coherence. 
12:35 pm: Government presents bill to criminalise triple talaq.  
11:19 am: Asaduddin Owaisi, AIMIM President has given a notice to oppose the introduction of Muslim Women (Protection of Rights on Marriage Bill) 2017 in Lok Sabha 
10:55 am: I don't think we can support it because they didn't made us understand how this criminality of Triple Talaq will benefit women. If someone is lodged in prison as a punishment for saying Triple Talaq, who will take care of his family: Salman Khurshid, Congress
10:45 am: PM Narendra Modi appeals for consensus in passing bill on triple talaq at BJP Parliamentary Party meet: Union Minister Ananth Kumar
10:40 am: Congress says it supports the triple talaq bill, but questions the proposal of jail term. 
Several Opposition parties, including Congress, Left and BJD, and various Muslim organisations have expressed reservations over the proposed jail term for violators. 
The government is resolute to press ahead with the bill in the Lok Sabha where it has a strong majority. However, some Opposition parties have demanded that the proposed law be scrutinised by a parliamentary committee in view of the objections raised by several quarters over criminalisation of triple talaq. 
The bill was cleared by the Union Cabinet earlier this month. 
The bill was listed for introduction last week, but Parliamentary Affairs Minister Ananth Kumar later told reporters that it would be introduced this week. 
As per the provisions of the bill, the husband could also be fined and the quantum of fine would be decided by themagistrate hearing the case. 
The bill is being introduced as the practice still continued despite the Supreme Court striking down 'talaq-e-biddat'. 
The proposed law would only be applicable to instant triple talaq and it would give power to the victim to approach a magistrate seeking "subsistence allowance" for herself and minor children. 
The woman can also seek the custody of her minor children from the magistrate who will take a final call on the issue.