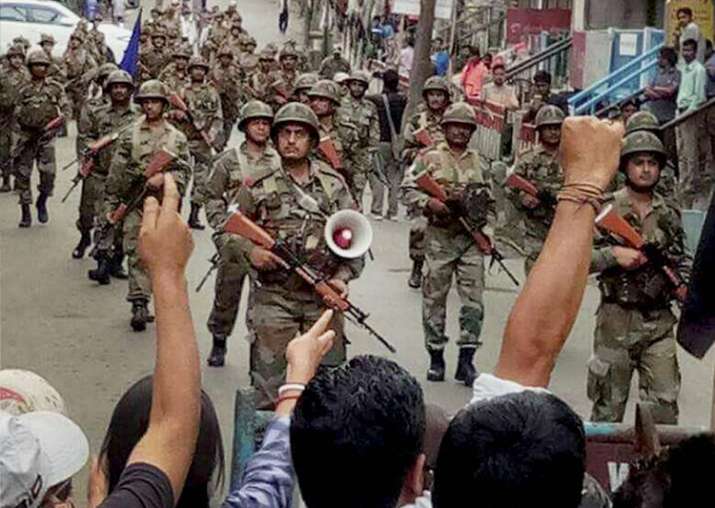 The Gorkha Janmukti Morcha (GJM) today called an indefinite shutdown in the northern West Bengal hills from Monday in support of its demand for a separate Gorkhaland state.
"All central and state government offices, banks, Gorkhaland Territorial Administration offices will be closed as part of the shutdown from Monday. However, schools and colleges will be outside the purview of the shutdown," GJM General Secretary Roshan Giri told media persons after the party's central committee meeting.
Block Development Offices, Sub-divisional Offices and District Magistrate's offices will also be closed. Banks will remain open on Mondays and Thursdays.
Giri said the state government's revenue sources like electricity, mines and boulders will also be part of the shutdown.
With the present round of movement sparked off by the state government's decision to make Bengali compulsory up to class 10, the GJM decreed that signboards in Darjeeling, Kurseong, Kalimpong, Mirik and several parts of Dooars and Terai could be written only in Nepali and/or English.
Every Monday there would be torchlight rallies in various wards and assembly constituencies of the hills from 7 p.m. to 8 p.m. for the sake of 'Gorkhaland's revival, he said. 
Giri said thousands of people will hit the streets to take part in mass rallies every Sunday and Thursday in Darjeeling, Kalimpong, Kurseong and Mirik.
"There will also be mass signature campaign in favour of Gorkhaland. The signatures will be sent to the Prime Minister and the Union Home Minister," he said.
Giri also announced that the shutdown will be relaxed for four days - June 27 to June 30 - when central and state government offices and banks would be open.