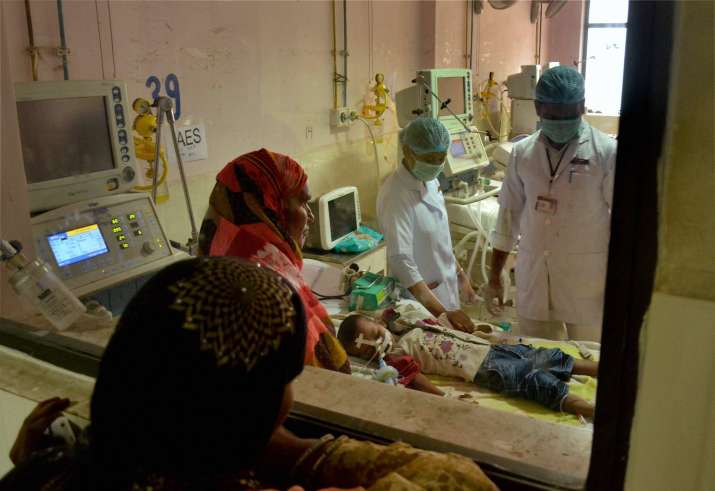 In what comes as yet another shocking revelation in the case of deaths of over 70 children at Gorakhpur's BRD Medical College, an inquiry report by District Magistrate Rajeev Rautela found that there was overwriting in the log book related to the purchase and re-filling of oxygen cylinders. 
Raising suspicions about corruption and the need for a more detailed investigation, the report has held supplier Pushpa Sales responsible for stopping the supply of liquid oxygen, saying it should not have done so as it was in the business of saving lives.
It has also questioned the absence of the then principal Dr Rajeev Mishra and head of anaesthesia department, Dr Satish Kumar, from the college on August 10. Dr Kumar was responsible for the continuous flow of oxygen to the hospital wards. 
At least 30 kids died within 48 hours at the BRD Medical College's Nehru Hospital on August 10 and 11. Oxygen supply remained disrupted on August 10 evening, though the state government has maintained that this was not the reason for the deaths.
The report has not said anything about whether breakdown in oxygen supply was responsible for the deaths. 
The report states that Dr Kumar and chief pharmacist Gajanan Jaiswal did not maintain the record of purchase of oxygen cylinders.
Moreover, Dr Kumar never inspected the log book or signed it. 
"There are multiple instances of overwriting in the stock book of oxygen cylinder at the BRD hospital. Even the log book which is supposed to be maintained by Dr Satish Kumar never had any signature or thumb impressions," the report was quoted by Times of India as saying. It clearly points at the financial irregularities behind the anomalies in cylinders' record logbook. 
However, Dr Kafeel Khan, the head paediatrician who was sacked from the hospital, has not been indicted in the report. The report, however, did say there were gaps in coordination between top doctors including Dr Khan. Government officials had earlier held Dr Khan responsible for the shortage.
A second inquiry conducted by the Chief Secretary will submit its initial report on Sunday. Chief Minister Adityanath had promised that the punishment to the guilty will "set a standard".
Meanwhile, a Public Interest Litigation (PIL) was filed in the Allahabad High Court seeking a judicial inquiry into the recent deaths at the BRD Hospital.
Filed by Suneeta Sharma, an advocate, and Kamlesh Singh, a social worker, the PIL is likely to be taken up for hearing before a bench today. 
The petitioners have blamed the deaths on "carelessness" of the doctors at the hospital and further contended that although encephalitis claims many young lives every year there were no effective measures to contain the outbreak of the vector-borne disease.
The petitioners also prayed for directions so that stern punishment was meted out to those held responsible for the deaths.