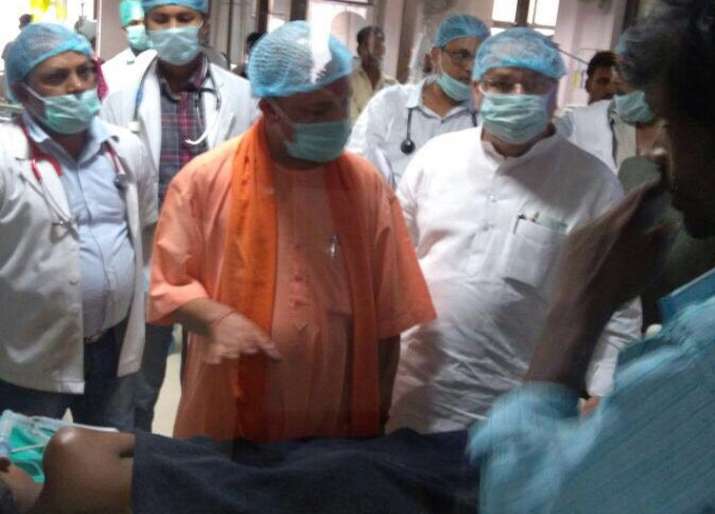 With the Uttar Pradesh government facing criticism for the death of 63 children at Gorakhpur's Baba Raghav Das (BRD) medical college allegedly due to lack oxygen supply, Chief Minister Yogi Adityanath today visited the hospital along with Union Health Minister J P Nadda. The Chief Minister had earlier said that he is personally monitoring the situation, and promised that those found guilty will not be spared. 
Yogi Adityanath and JP Nadda are addressing the media after their visit to the hospital.
Here are the LIVE updates:
02:32 PM: There should not be any politics on this sensitive matter: Yogi on Congress' statement
02:31 PM: When Ghulam Nabi Azad was Union Health Minister, he had come to visit BRD medical college during a breakout of Japanese encephalitis and had said health is a state matter and the Centre could not do anything on the issue: Yogi
02:27 PM: I assure the state government that Centre will provide all possible help: Nadda
02:26 PM: As an MP, Yogi has always raised the issue of encephalitis in the Parliament: JP Nadda, Union Health Minister
02:25 PM: I am sensitive towards kids, I understand what the families are going through: Yogi
02: 24 PM: I assure that strict action will be taken against those found guilty, request you to wait for the reports: UP CM
02:20 PM: We will punish those who are found guilty: Yogi
02:19 PM: A committee headed by Chief Secretary will submit its report soon: Yogi 
02:18 PM: Dr PK Singh, Principal of Rajkiya Medical College, Ambedkar Nagar, has been given additional charge of BRD Medical College
02:15 PM: I have been fighting against encephalitis from street to Parliament: CM Yogi
02:11 PM: This is a fight against encephalitis:Yogi
02:11 PM: Prime Minister has sent a team of specialist doctors here: CM Yogi
CM Yogi Adityanath and Union Health Minister JP Nadda reached BRD Hospital in #Gorakhpur pic.twitter.com/W9XT28GAOl

— ANI UP (@ANINewsUP) August 13, 2017
Meanwhile, the Principal of the Baba Raghav Das Medical College, who was suspended following the death of 30 infants within a span of 48 hours since August 10, today resigned from the post. 
Confirming the resignation of Mishra from the post of the BRD medical college principal, UP Health Minister Sidharth Nath Singh said, "Yes, he has resigned. But no good, because we have already suspended him and initiated enquiry of his misdoings." 
In his letter to the Director General of Medical Education and Training, the principal said that he tendered his resignation from the post taking the moral responsibility for the recent death of 30 children admitted in the hospital's paediatric ward. 
Earlier, Singh and UP Medical Education Minister Ashutosh Tandon had said that Mishra was suspended for his "irresponsible act" of allegedly delaying payment to the supplier of oxygen cylinders. 
They also said that a probe, led by the state chief secretary, had been ordered. 
The funds to clear the oxygen supplier's dues was transferred to the latter only on Friday, after the deaths grabbed the nation's attention. 
While rejecting reports of lack of oxygen supply being the reason behind the deaths, Chief Minister Yogi Adityanath said that that a committee has been set up under the Chief Secretary to go into the gas supplier's role and other lapses.
The supplier's demand for dues to the tune of Rs 65 lakh reached the state government at Lucknow on August 1, and the funds were released to the college on August 5, a Times of India report cited official sources as saying. 
Adityanath also said that during his review meeting in Gorakhpur on August 9, he had asked officials if there were any issues or they required any help from the government but was told that there were none.
The Chief Minister said that he himself had visited the BRD medical college on July 9 and August 9 to himself look at the situation but was not informed of any shortage, including of oxygen.
On August 8, the supplier, Pushpa Sales, had communicated to the hospital that it would soon suspend the supplies due to unpaid dues. 
"INOX, the firm we are taking oxygen supply from, has expressed inability to continue the supply of oxygen in future, in case we fail to make payments to them," the letter from Dipankar Sharma of Pushpa Sales to the college principal was quoted by Times of India as saying. 
Despite the supplier's reported threat to stop the oxygen supply, the district administration did not bother to react in a timely manner. 
According to the report, low oxygen was reported at the hospital on August 10, around 7:30 pm. This led to the supply for patients being switched from the central system to cylinders. Thereafter the cylinders began to run out, forcing staff to adopt emergency measures such as using hand pumps to aid ventilators. Supply of cylinders was restored around 11.30 and situation stabilised around 1.30am.
Expressing his sympathies to the bereaved families, Adityanath said that encephalitis was a big challenge for the state government as well as an emotional issue for him as he have been waging a war against it since 1998.
He also said Prime Minister Narendra Modi had enquired about the situation and assured all central help. The Union Health Secretary was in Gorakhpur, he said, adding that Union Health Minister J.P. Nadda and his Minister of State were monitoring the situation as well.
Meanwhile, citing figures, Siddharth Nath Singh said that 567 deaths occurred in August 2014 at a daily average of 19, 668 deaths in 2015 in the same month with a daily average of 22 and 587 deaths in August 2016 with a daily average of about 20, but the state government taken steps to improve health services in the last three months and there had been a reduction in fatalities.
"In August this year up to the 11, 133 deaths have occurred," he said. 
Also denying the shortage of oxygen or disruption of the central oxygen plant had lead to the deaths of children, including infants, he attributed the deaths to some being underweight, early delivery, sepsis, pneumonia and other infections. A few deaths, he added, happened due to encephalitis as well.
Medical Education Minister Ashutosh Tandon said pending payments of the vendor supplying oxygen were cleared on August 5 and funds sent to the BRD medical college, but it was "surprising" that Principal Rajeev Mishra did not release it till August 11.