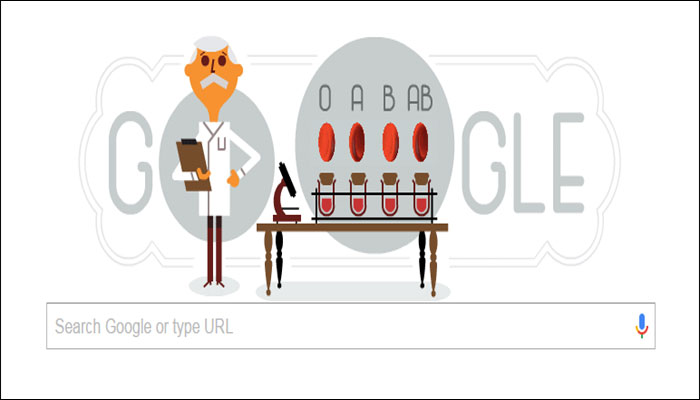 New York: Google is today celebrating the 148th birthday of Karl Landsteiner with a wonderful interactive doodle. 
Born on June 14, 1868 in Vienna, Austria, Landsteiner went on to become a noted biologist and physician who received the Nobel Prize for Physiology or Medicine for his discovery of the major blood types in 1900.
He is a discoverer of four blood types A,B, AB and O, and it was only six years later in 1907 that the first successful blood transfusion took place because of his discovery.
"You might not know the name Karl Landsteiner, but his discoveries have saved the lives of so many millions of us," writes Google.
The doodle depicts the laboratory where Mr Landsteiner is standing next to a table that has microscope and four test tubes containing different types of blood groups. 
"The first fundamental discovery in the history of serology didn't come until 1901, when Karl Landsteiner's identification of blood groups spurred a flurry of additional research and discovery and eventually led to his receiving the 1930 Nobel Prize in Physiology or Medicine," according to the Vienna-born biologist's profile at Rockefeller University in the US.
In the 17th century, the "dangerous" practice of blood transfusions -- used since at least the Middle Ages -- was banned in large parts of Western Europe
In 1902, two of Landsteiner's colleagues, Alfred von Decastello and Adriano Sturli, discovered the fourth blood group, AB, further elucidating the differences in compatibility among blood types, according to the Rockefeller University profile.
"Landsteiner is also credited with laying the groundwork, together with fellow scientist Erwin Popper, that led to the discovery of the polio virus. 
This was the first step towards developing a treatment for the disease which affected millions of children worldwide," Google said in a statement on Tuesday. Landsteiner died in 1943 following a heart attack in his laboratory.
(With IANS inputs)