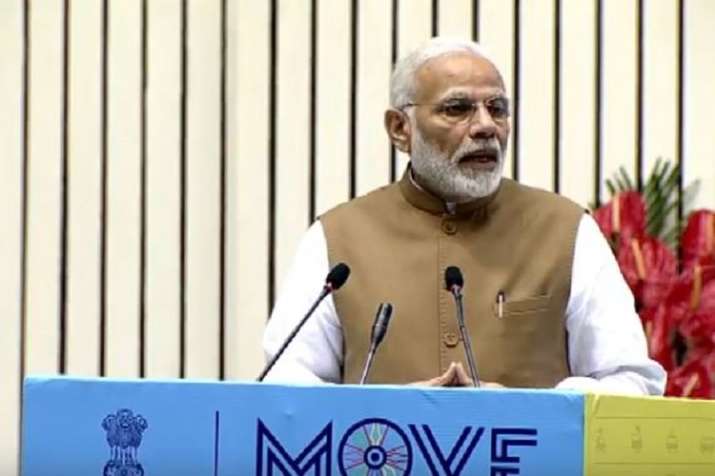 India's ever first Global Mobility Summit - MOVE - was inaugurated by Prime Minister Narendra Modi in New Delhi on Friday. Making Indian cities pollution free is the prime focus of the two-day summit being organised by the NITI Aayog. Speaking on the occasion, PM Modi said that focus must go beyond cars and stressed that common public transport must be made the cornerstone of mobility; 
"Congestion-free mobility critical to check economic and environmental costs of congestion," PM Modi added.
HIGHLIGHTS OF PM MODI's SPEECH:
Clean Mobility powered by Clean Energy is our most powerful weapon in our fight against Climate Change.

This means a pollution-free clean drive, leading to clean air and better living standards for our people.

We should champion the idea of 'clean kilometres': PM

— PMO India (@PMOIndia) September 7, 2018
# Charged mobility is the way forward. We want to drive investments across the value chain from batteries to smart charging to Electric Vehicle manufacturing. India's entrepreneurs & manufacturers are now poised to develop and deploy break-through battery technology: PM
# Common Public Transport must be the cornerstone of our mobility initiatives. New business models driven by digitization, are reinventing the existing paradigm. Our focus must also go beyond cars, to other vehicles such as scooters and rickshaws: PM Modi
# Connected mobility implies integration of geographies as well as modes of transport. The Internet-enabled Connected Sharing Economy is emerging as the fulcrum of mobility. We must leverage the full potential for vehicle pooling to improve private vehicle utilization, says PM Modi
# My vision for the future of mobility in India is based on 7 Cs: Common, Connected, Convenient, Congestion-free, Charged, Clean, Cutting-edge: PM Modi
# We have doubled our pace of construction of highways. We have re-energized our rural road building programme. We are promoting fuel efficient and cleaner fuel vehicles. We have developed low-cost air connectivity in under-served regions: PM Modi
# Mobility is a key driver of the economy. Better mobility reduces the burden of travel and transportation, and can boost economic growth. It is already a major employer and can create the next generation of jobs, says PM Modi
Our youth are on the MOVE. We are fast emerging as the start-up hub of the world.

India is MOVING ahead with new energy, urgency and purpose: PM

— PMO India (@PMOIndia) September 7, 2018
# Indeed, India is on the MOVE: Our economy is on the MOVE. We are the world's fastest growing major economy Our cities and towns are on the MOVE. We are building 100 smart cities Our infrastructure is on the MOVE. We are speedily building roads, airports, rail lines and ports: PM Modi
# Our goods are on the MOVE. GST has helped us rationalize supply chains and  warehouse networks. Our reforms are on the MOVE. We have made India an easier place to do business. Our lives are on the MOVE. Families are getting homes, toilets, LPG cylinders, bank accounts and loans: PM Modi
More than 2,200 participants from across the world including leaders from the government, industry, research organisations, academia, think tanks and civil society are attending the event. 
Tomorrow morning, I look forward to attending MOVE, a special Global Mobility Summit being held in Delhi. This is a commendable effort to bring together various stakeholders who are working to improve mobility across platforms and sectors. https://t.co/DzRJh1q1rA

— Narendra Modi (@narendramodi) September 6, 2018
Deliberations will he held on steps to promote more and more usage of electric vehicles and to bring awareness about various aspects of mobility.
The mobility conference is a huge opportunity to leapfrog as there is an inevitable global disruption through electric mobility, Niti Aayog CEO Amitabh Kant told reporters ahead of the summit. 
WATCH VIDEO: