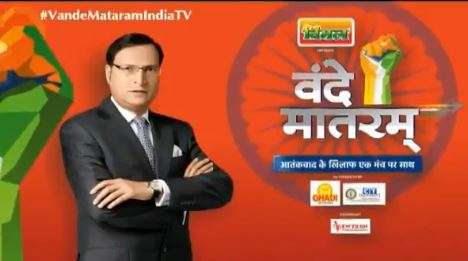 Namaskar, Vande Mataram
When we decided to take up this topic of terrorism for the convention, people said there is no point in doing this, Pakistan will not stop backing terror, terrorists are not going to deter. Earlier too, Pakistan's former PM Nawaz Sharif had assured that they will not provide safe haven for terrorists. The same language is now being used by current Pakistan PM Imran Khan. Even before that, Pervez Musharraf (former Pakistan president) said that Pakistan will not support terrorism because it affects them, and the same thing is now being said by Imran Khan. Nothing has changed and nothing is going to change.
 
But, in my opinion, a lot changed on the night of February 26 at 4.01 AM. For the first time in history, Pakistan got a message that India has a government which believes in the valour of its armed forces. For the first time, we didn't write a love letter or sent a dossier. For the first time, we didn't write to the United States, seeking their permission. Our forces went 60 Km inside Pakistan and conducted the strike on terror camps. This was a massive change and it happened for the first time.
 
I can say this based on my own experience that this is not a new thing for Narendra Modi. When he was not the prime minister and was the chief minister of Gujarat, he came on Aap Ki Adalat, I asked him a question on terrorism... it was after the 26/11 Mumbai terror attacks. I asked him what he would have done had he been the PM? At that time, there was no hope of him becoming the PM. But he said that writing love letters to Pakistan should be stopped and India should answer Pakistan in the language it understands the best. He also said that whenever something happens, our government cries, 'Obama, Obama, hum marr gaye'. He said this thing should stop and the government should believe in its armed forces. And this belief we witnessed on February 26.
 
Today, on this backdrop, we would discuss with the members of the government, leaders of the opposition parties, the retired generals of the armed forces and the audience sitting here, on how to put an end to terrorism as it is very important for the country. May be Pakistan didn't have any idea that the Indian armed forces could attack the terror camps inside its territory. May be, Pakistan was not aware that India has a leader who has the political will and can take big decisions. But a lot of questions have been raised on this decision as to whether this action was taken keeping in mind the upcoming elections, whether this decision was taken under pressure of the people, whether we really hit the terror camps and killed over 300 terrorists? These are all the questions but the biggest question is - 'Is India moving on the path where it is determined to uproot terrorism and finish it completely?'.