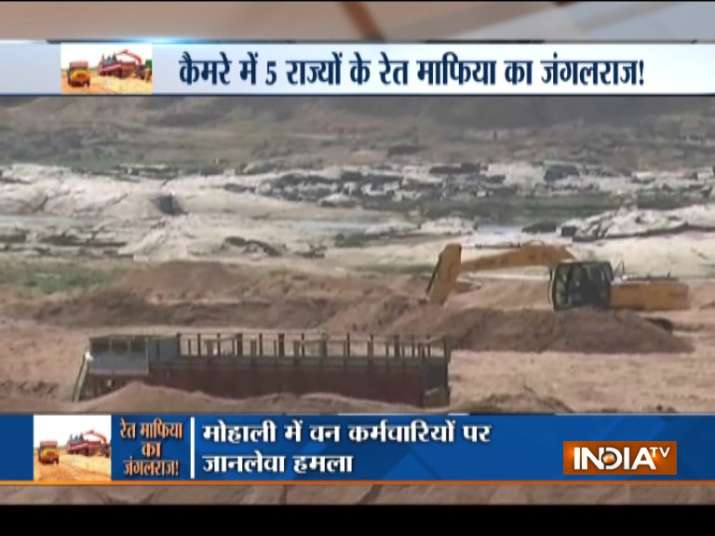 Spreading its influence throughout India, the sand mafia has spawned the illegal trade in various states, plundering the environment and even killing those who get in its way. 
In Punjab, AAP legislator Amarjit Singh Sandoa was attacked on Thursday by members of a sand mining mafia in Rupnagar district. The local MLA was visiting a quarry to verify reports of illegal sand mining in Beinhara village near Nurpur Bedi when he was attacked. Similarly in Mohali, two officials, including a forest officer, were brutally attacked by five to seven assailants with sticks and sharp-edged weapons on the night of June 18 when they intercepted a tractor-trolley near Seonk village, in a murderous assault on forest officials by the sand mafia. 
In Uttar Pradesh's Banda, sand mafia members fired 500 rounds on district administration officials who arrived to raid the premises. 15 members of a family were killed and five others injured on Thursday when a sand-laden tractor-trolley hit a jeep in Madhya Pradesh's Morena. The driver of the tractor-trolley, carrying sand mined illegally from the National Chambal Sanctuary, fled the spot. In Bihar's Kaimur, National Highway-2 was blocked after 400 trucks and 155 tractors overloaded with sand were seized. 
Illegal sand mining is a perennial problem in India but it assumes gargantuan proportions right before the onset of monsoon because swollen rivers make extraction extremely difficult during the rainy season. To make most of the lean period, mine owners and hoarders try to dig out as much sand as possible, through legal and illegal means, in the pre-monsoon months. 
Watch IndiaTV's Exclusive Report on Sand Mafia in India: