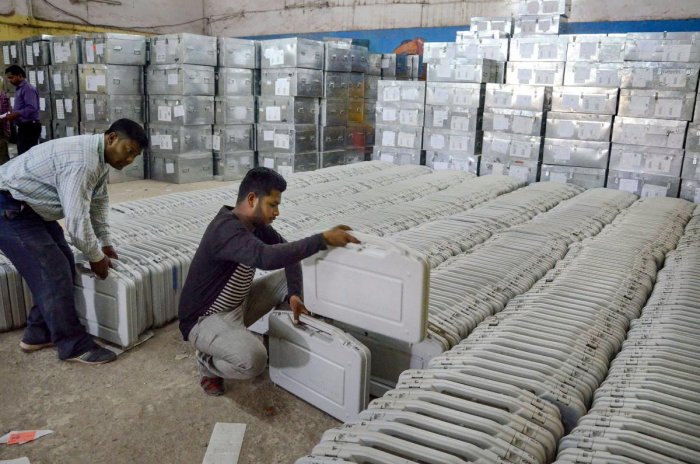 The Election Commission of India on Tuesday refuted Opposition's allegations regarding movement of EVMs purportedly to replace the polled voting machines in the strongrooms. The poll panel clarified that all reports and allegations doing the rounds are absolutely false and factually incorrect. The Commission also categorically mentioned that the visuals seen on social media do not pertain to any EVMs used during the polls. 
"After the close of polls, all polled EVMs and VVPATs are brought under security cover to the designated strongrooms, which is sealed with double locks, in the presence of the candidates and in the presence of Observers of the Election Commission," the poll body said in a press release. 
"The entire process of storage and sealing of the strongroom is covered under videography. Continuous CCTV coverage is done till completion of counting. Each strongroom is guarded with round-the-clock security by Central Armed Police Forces (CAPF). The candidates or their designated agents remain present at the strongroom for 24/7 vigil at all times," the Commission explained.
It said that the strongrooms are opened in the presence of the candidates/agents and Observer under videography. Before the counting of EVMs commences, the counting agents are shown the address tags, seals and serial number of the EVMs to satisfy themselves to the genuineness and authenticity of the machines used in the actual polls, the Commission added. 
The Election Commission clarified that the clips being used in media merely pertain to the storage or movement of Reserve unused EVMs. 
"However any case of lapse even in handling of Reserve EVMs is thoroughly investigated and disciplinary action taken against the officers responsible," it said. 
ALSO READ | Safety of EVMs is Election Commission's responsibility: Pranab Mukherjee
ALSO READ | PM Modi's approval rating remained high throughout Lok Sabha polls: Survey