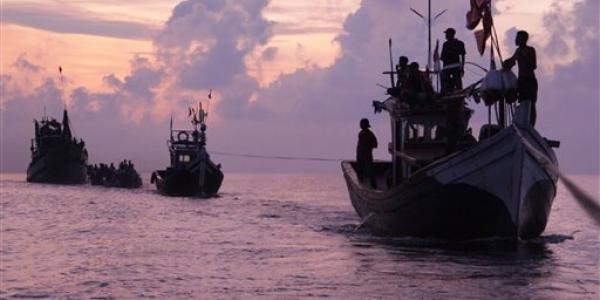 Eight Indian sailors are stranded without full wages for nine months aboard a vessel in Dubai, a media report said Tuesday. The crew members of the Panama flagged ship, that entered Dubai waters in November last year, claimed that their company has abandoned them without providing wages and enough food and fuel, Gulf News reported.
The ship, MV Topman, is docked at berth No. 13 in Dubai Maritime City (DMC).
The crew members said that they have only been paid one month's salary since they reached Dubai waters and alleged that there is minimal supply of food and drinking water, the report said.
They had been supplied food twice by Nautical Institute UAE.
As they are running out of fuel, the crew members have started rationing fuel for night and have been spending the daytime under a tarpaulin roof on the deck since Friday, the report said.
"We are just surviving. We have lost seven-eight kilos. We don't have energy in us. Our families are suffering back home. The situation is so tough that we are on the verge of (committing) suicide," said one of them.
The sailors cannot leave the ship since they do not have the UAE visas.
"If any accident or medical emergency happens, we cannot even go out to seek help. The ship's MLC complaint certificate and all the firefighting appliances are expired," said a senior crew member.
The sailors said they had approached various authorities for getting their pending wages and early repatriation.
The Federal Transport Authority (FTA) of the UAE has warned the Indian owner of the ship that the company's activities will be banned in the UAE by Thursday if he does not provide a plan to sort out the sailors' issues.
An executive from the company's representative office in Sharjah said the company was facing a financial crisis and would be able to make the full payment of the pending wages only after selling the ship.
"We had given them (the eight sailors) an option to go home with one month's salary and we will pay the rest after the sale. But they are not ready to do that. We have also made arrangements with the canteen in DMC to give them lunch and dinner," he said.
The emails from the Panama Consulate in Dubai indicated that the mission was trying to assist the company to sell off the ship and was ready to arrange tickets and visas for the sailors if they wished to fly home before receiving the full payment.
The Indian Consulate in Dubai said the mission had been in constant touch with both crew members and the company to resolve the issue.
"We are also in touch with the FTA and the Panama Consulate to resolve the issues of sea-fares of the ship," the consulate added.