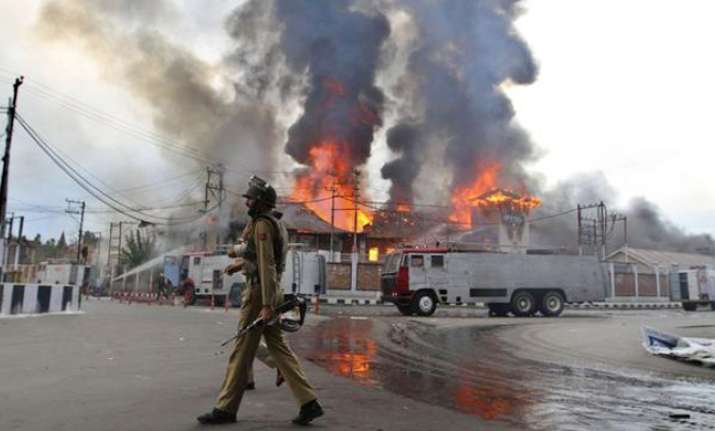 Srinagar: In 110-day-long unrest in Kashmir, the unlikely and biggest causality is education in the Valley with at least 20 schools building being burnt down.  
In the past three-and-a-half months, since the death of Hizbul Mujahideen commander Burhan Wani, at least one school in each of Kashmir's 10 districts have either been burnt or suffered damages in fires, according to a report by Hindustan Times. 
At least six schools were burnt in the last six days alone with the latest being Baramulla. 
Police on Thursday said that a primary school building and two vehicles were set ablaze by some persons in Kashmir in separate incidents of arson over the past 24 hours.  
This was the 20th school building set on fire by unknown persons since the current unrest began in Kashmir following killing of Hizbul Mujahideen militant Burhan Wani in an encounter with security forces on July 8.  
Schools in the Kashmir valley have been shut down for over three months since the protests started. 
A police official said Government Primary School at Taaper in Pattan area of Baramulla district was set on fire by unknown persons late last night, a police official said.  
He said the three-room building was gutted in the fire.  
In another incident, miscreants set on fire an autorickshaw at Rainawari in the city for violating the strike call given by the separatists, who are spearheading the agitation.  
The autorickshaw was destroyed in the fire, the official said.  
On Tuesday, authorities said that three buildings were set ablaze by unknown persons in Kashmir within 24 hours.
In the wee hours of Tuesday, a Government school was set ablaze by unknown persons in Noorbagh area of Srinagar but the blaze was put out by fire tenders.
In another incident, miscreants tried to burn down Government Higher Secondary School at Aishmuqam in Anantnag district. 
Fire broke out in a building of Government Middle School in Sadrukote Bala of Bandipora district but it was soon put out by fire tenders.