Follow us on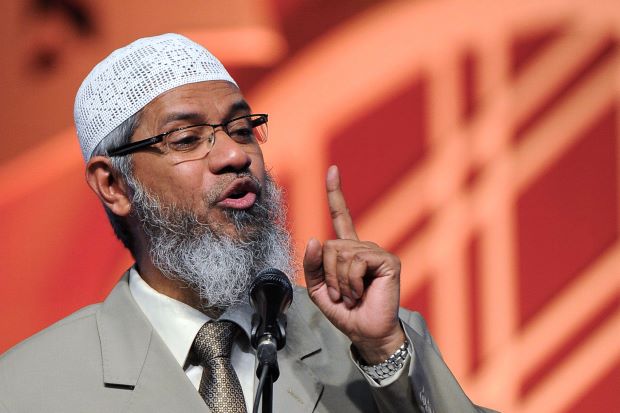 In what could eventually turn out to be the last opportunity for controversial Islamic preacher Zakir Naik to return to India and face the charges of money laundering against him, the Enforcement Directorate (ED) has issued fresh summons, also possibly the last, to Naik in connection with its money laundering probe case against him and others.
Rejecting his plea to depose via an Internet-based video link from abroad, ED officials said the agency has issued the fourth summons to Naik, via his lawyer and through e-mail, to appear before it and join the probe.
According to the officials, the latest summons could possibly be the last issued to him and the agency may move court for an arrest warrant against him, if he chooses to ignore the summons again.
Zakir Naik's request to allow a deposal through a video link was rejected by the ED on grounds that such a remedy is not allowed under the provisions of the Prevention of Money Laundering Act (PMLA).
Moreover, they said, the agency wants to question Naik "in person" given the serious charges of money laundering being investigated against him and others.
Naik, through his lawyer, had made a proposal to depose via video link some days back even as he apprehended that he could be arrested by the agency like his aide Aamir Gazdar.
"My client is willing and ready to give any statement before you via Skype or any other mode of electronic media to assist you in your investigation," a letter sent by Naik, also the founder of NGO Islamic Research Foundation (IRF), through his lawyer Mahesh Mule had said.
Naik, however, had maintained that he is an NRI and that he was yet to receive any summons from the probe agency. The letter, however, did admit that his brother had been served the summons on February 2, asking Naik to appear before ED on February 9, but  maintained that it could not be construed as proper service of summons.
Naik has also requested the ED to wait for the order of the Unlawful Activities (Prevention) Act (UAPA) tribunal before asking him any questions about his now-banned NGO IRF as the ban is being contested.
IRF was banned for five years by the government last year under the UAPA for its alleged terror activities.
Naik had also claimed that he faces an extremely hostile atmosphere in India and under these circumstances, conducting a fair probe against him would be impossible. He had sought a few months time to appear before the ED in person.
The ED had last week arrested Aamir Gazdar, a close aide of Naik, in connection with this money laundering case.
The central probe agency had registered a criminal case against Naik and others in December last year after taking cognisance of an NIA complaint under the UAPA.
The ED is looking into the charges of illegal funds laundered by the accused and the subsequent proceeds of crime thus generated.
Naik (51) is said to be staying in Saudi Arabia to evade arrest after some perpetrators of the Dhaka terror strike last year claimed that they were inspired by him.
He along with unnamed IRF officials has been booked under section 153A, IPC (promoting enmity between different groups on grounds of religion and doing acts prejudicial to maintenance of harmony), besides various UAPA sections.
(With PTI inputs)