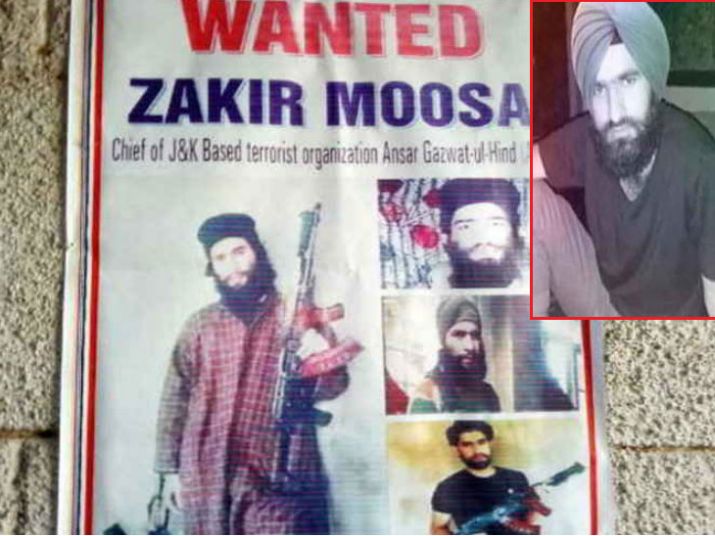 Recent intelligence inputs have indicated that dreaded terrorist Zakir Musa could be hiding in Punjab, disguised as a Sikh. High alert has been sounded in Bathinda and Ferozepur districts following the intelligence reports, with army troopers, Punjab Police and other paramilitary stationed in and around important places like Bathinda Railway Station. Musa is a former Hizbul Mujahideen commander and slain terrorist Burhan Wani's successor, 
Posters of Musa have been put up, including one of him disguised as a Sikh, at various places to make the public aware in both districts. Earlier, posters of Musa had been put up in the frontier districts of Gurdaspur and Amritsar in November following similar reports that he could be hiding in Punjab.
Musa, who heads the terrorist outfit Ansar Ghazwat-ul-Hind (AGH), a cell of Al-Qaeda, in Kashmir Valley, is said to be well-acquainted with places and people in Punjab. 
He was a student in an educational institution in Punjab's Mohali district, adjoining Chandigarh, from 2010 to 2013 before joining the militant ranks.
He had succeeded Burhan Wani as the chief of the terrorist organisation Hizbul Mujahideen following Wani's death in an encounter with security forces in Kashmir in July 2016.
Punjab Police officials said here that the high alert had been sounded to nab the terrorist.
In recent weeks, the Punjab Police and Jammu and Kashmir Police have busted modules, including engineering students, who had carried out terror activities in Punjab.