Follow us on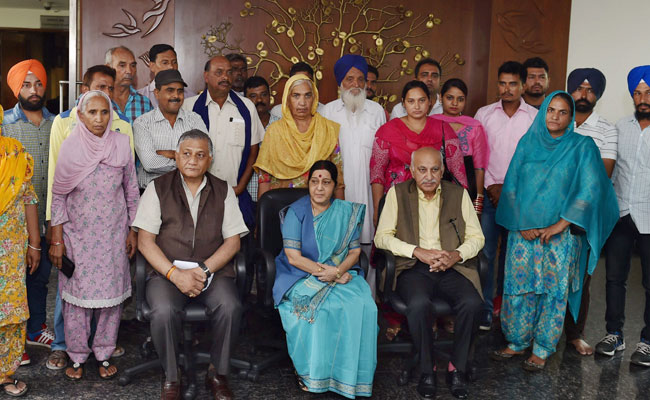 Family members of the 39 Indians who went missing in Iraq's Mosul in 2014 have been asked to provide their DNA samples, the kin said on Saturday. The missing Indians, most of them from Punjab, are believed to have been captured by Islamic State (IS) militants from Mosul  in June 2014 when the group overran the city. 
Health authorities in Gurdaspur on Saturday collected DNA samples of family members of three of the missing Indians. Families of some of the missing Indians from Amritsar district were also asked to come to the Government Medical College in Amritsar to give DNA samples. However, the samples were not taken on Saturday.
The health department constituted a committee comprising duty magistrate Wariam Singh, pathologist Vijay Kumar and laboratory technician Malkiat Singh to conduct their DNA test. 
Ram Lal, the Gurdaspur civil surgeon, said the deputy commissioner directed the health department to conduct the DNA tests of the families of the missing youths to ascertain their identities. 
The samples will be sent to the forensic laboratory in Hyderabad, he said. 
The team collected DNA samples of Raj Kumar and his wife Kanwaljit Kaur, parents of Dharminder Kumar, a resident of Talwandi Jhaura village; Harbhajan Singh and his wife Mohinder Kaur, parents of Kanwaljit Singh, a resident of Rupowali; and Sukhdev Singh and his wife Niral Singh, parents of Malkiat Singh, the official said. 
From Gurdaspur, five youths had gone to Iraq in 2014. The family members of the fourth youth, Harish Kumar, had since shifted to Amritsar. 
While the fifth youth, Harjit Masih, a resident of Kala Afghana, had managed to return to India after giving the slip to ISIS militants after being shot in his feet in 2014. Masih, who escaped from the clutches of terrorists in June 2014 had claimed that all 39 Indians had been killed.
However, External Affairs Minister Sushma Swaraj has maintained that there was no information confirming that the Indians were dead.
Meanwhile, in Amritsar, family members of the missing Indians said they were not told why they were asked to undergo DNA test. 
They were asked to come to the government medical college in Amritsar for the test.  But they have now been asked to come again on Monday. 
Gurwinder Kaur, a resident of village Mehta of Amritsar district, said, "I fail to understand why the government has asked us to go for DNA test whereas we were assured that my brother will come back safe and sound one day." 
Kaur's brother Manjinder Singh was among the missing Indians. 
"We were told to come to the Government Medical College and provide DNA samples. We have no idea why this is being done. We have not been told anything. We got a message from the SDM office regarding this," Sarwan Singh, whose brother is among the 39 missing Indians, said.
According to a report by the Indian Express, the DNA samples are being collected at the behest of the Ministry of External Affairs. These samples would be sent to Iraq and Syria to be matched with people captured from fallen IS bastions such as Raqqa, as well as with bodies recovered during combing operations, ministry sources were quoted as saying by the newspaper. 
A total of 39 Indians had been missing in Iraq since 2014. Among them, 22 were from Amritsar, Gurdaspur, Hoshiarpur, Kapurthala and Jalandhar in Punjab. They went missing in Iraq's Mosul town when it was overrun by the Islamic State. Their families here continue to swing between hope of the men being found alive and fear that they will hear the worst.
After Mosul was freed from the clutches of the Islamic State in July, there was hope that the missing Indians will be found. However, Iraqi Foreign Minister Ibrahim al-Jaafari, during his India visit in July, said he was not sure if the men were alive or not.
Sushma Swaraj had earlier assured the families, who have met her several times, that all efforts were being made to trace the missing men, who had been held hostage in Iraq's Mosul town by terror outfit ISIS in June 2014.
The affected families, who are all from poor backgrounds mostly from rural areas of Punjab, say they can do nothing else but pin hope on the government's and the minister's assurances.
(With agencies)