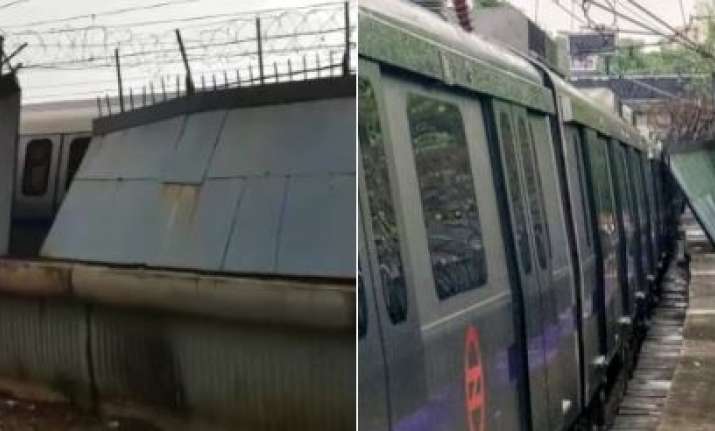 After heavy rains lashed Delhi on Thursday, a portion of a railing wall of Delhi Metro fell on a train between Lajpat Nagar and Jangpura metro station.
As a result, services of Metro's Violet line halted.
The Violet Line connects Kashmere Gate in Delhi to Escorts Mujesar in Faridabad. 
The incident took place around 4 pm and services are being run in two loops -- Nehru Place to Escorts Mujesar; and Central Secretariat to Kashmere Gate, till the railing is removed," a senior DMRC official said. 
"A portion of a railing on the ramp (when train comes out from underground Jangpura station towards elevated Lajpat Nagar station) fell on the tracks (going towards Faridabad) between Lajpat Nagar and Jangpura sections around 4:05 pm due to heavy rains and wind," he said. 
"After the incident, the approaching train, moving towards Lajpat Nagar station, was put on hold due to this obstruction. All passengers were safely taken to Lajpat Nagar station," he added. 
WATCH VIDEO Delhi Metro services disrupted: Major tragedy averted as boundary wall falls on coach
(With PTI inputs)