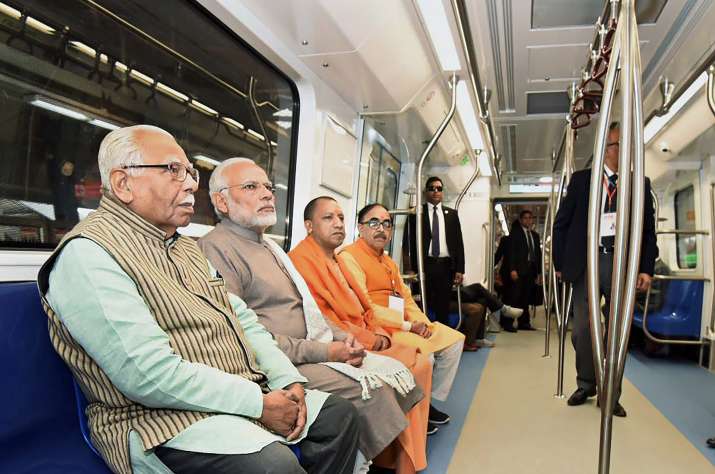 Prime Minister Narendra Modi today advocated the use of public transport to save on fuel and costs associated with the import of petroleum, saying travelling on a metro train should be a "prestige issue".  
Launching a 12-km stretch of Delhi Metro's Magenta Line in Noida, he said governments incur a lot of cost in creating infrastructure but when it is ready it benefits generations to come. 
Addressing a public meeting, Modi said by 2022, when India celebrates its 75 years of Independence, he wants to cut down on imported petroleum products. 
He said a multi-modal transportation system will ensure that use of fuel is cut down, which will help the common man save money and also be useful for the environment.  
On December 24, 2002 then prime minister Atal Bihari Vajpayee took a ride on the metro, Modi recalled. "It was a historic moment. Since then, the Metro network in NCR has expanded considerably," he said. 
We live in an era in which connectivity is all important, the prime minister said. "Without connectivity, life comes to a standstill. This Metro... is not only for the present but also for future generations," he said. 
Also read: India TV's live coverage of Delhi Metro Magenta Line inauguration by PM Modi, CM Adityanath
There was need to change the mindset so that people prefer using public transport than their private vehicles. He said travelling on a metro should be a "prestige issue".
Modi took the inaugural ride between the Botanical Garden and the Okhla Bird Sanctuary stations on the Magenta line stretch along with Uttar Pradesh Governor Ram Naik, Uttar Pradesh Chief Minister Yogi Adityanath, Union Minister for Housing and Urban Affairs Hardeep Singh Puri and Delhi Metro Rail Corporation chief Mangu Singh. 
The prime minister boarded the metro at Botanical Garden, which is the terminal station of the Magenta Line, at 1.05 pm, and alighted at the Okhla Birds Sanctuary following a four- minute ride. Both stations fall in Noida, a suburban town in Uttar Pradesh bordering New Delhi. 
The other end of the line, for now, will be south Delhi's Kalkaji Mandir. However, by April, the entire corridor, stretching till Janakpuri West, is scheduled to be functional.