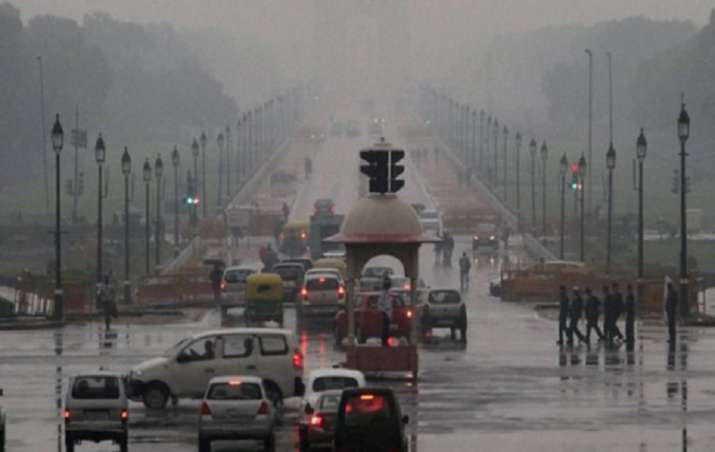 A light drizzle in the national capital on Wednesday brought the mercury down by two notches from the seasonal average as the minimum temperature was recorded at 26.2 degree Celsius.
There was 3.4 mm of pre-monsoon showers in past 24 hours, the Met said. The humidity at 8.30 am was recorded at 92 per cent.
The day ahead was expected to be cloudy and the maximum temperature was likely to hover around 32 degrees, an official at India Meteorological Department (IMD) told IANS.
At 11 a.m., Palam, the warmest region in Delhi was at 29 degrees Celsius.
The mercury in Delhi fell on Tuesday after the maximum temperature dropped by eight degrees due to pre-monsoon activity. The temperatures will stay well below 35 degrees this week, the IMD official said.
"Wednesday will be generally cloudy with few spells of rain or thundershowers in different pockets of the city," he told IANS.
In the past 24 hours, Safadarjung saw 3.4 mm, Palam recorded 0.6 mm, Lodhi Road recorded 7.7 mm and Ridge area recorded 2 mm of rainfall, respectively.
The air quality of Delhi improved on Wednesday morning with average air quality index (AQI) at 11 a.m. being 97, which is considered good. 
The PM2.5, or the particles in air with diameter less than 2.5mm were 48 units, while the PM10 was 89.2, both under the national permissible limit, first time in months.
The pre-monsoon rains were likely to continue till Thursday, the Met said.
The IMD could declare monsoon in Delhi anytime between June 29 to July 1, a Met official told IANS.
Tuesday's maximum temperature settled at 34.2 degrees, three notches below the season's average, while the minimum temperature was recorded at 27 degrees Celsius, the season's average.