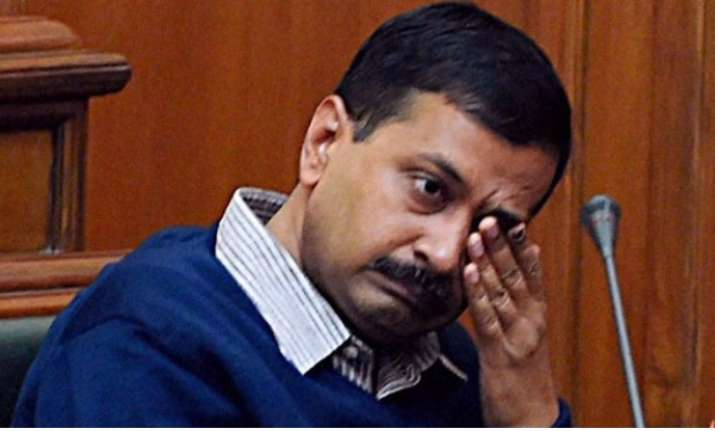 The Centre Government on Sunday notified the disqualification of the 20 Aam Aadmi Party MLAs from Delhi Assembly for allegedly holding offices of profit, PTI reported.
A notification issued by the law ministry quoted the president as saying that in the light of the opinion expressed by the Election Commission (EC), the 20 members of the Delhi legislative assembly have been disqualified.  The AAP MLAs were appointed parliamentary secretaries and their appointment was described as them holding offices of profit by a petitioner.
On Saturday, the Election Commission asked the President to disqualify the 20 MLAs for holding offices of profit, setting the stage for their ouster from the Assembly.
In its opinion sent to President Kovind, the EC said the MLAs, by occupying the post of parliamentary secretaries between March 13, 2015 and September 8, 2016, held offices of profit, and were liable to be disqualified as legislators, highly-placed sources have said.
The development does not threaten the AAP government in Delhi as it has 66 MLAs in the 70-member Assembly. Still, the BJP and the Congress have demanded Kejriwal's resignation on moral grounds.
Here are the LIVE Updates: 
07:00 pm: They have filed a fake case against our 20 MLAs, they ordered a CBI raid in my offices, bt in vain. For them, only Kejriwal is corrupt in the entire country. When they found nothng on me, they orchestrated disqualification of 20 MLAs: Delhi CM Arvind Kejriwal in Najafgarh
04:35 pm: President's order disqualifying 20 AAP MLAs unconstitutional, dangerous for democracy: AAP leader Ashutosh
04:24 pm: The fact that their RS nomination happened means EC was working at its own pace & there was no pressure that Arvind Kejriwal seems to have alleged.These are constitutional bodies whose mandate is to obey law :Meenakshi Lekhi, BJP on disqualification of 20 AAP MLAs
04:04 pm: Disqualified MLA Alka Lamba to India TV: It is sad that President Kovind took the decision in such a haste. It would have been better if he had given us a chance to present our case.
Unfortunate that the President took the decision in such haste, without giving us chance to speak. It's an act of Centre using constitutional institutions. We've trust on judiciary. Doors of HC & SC is open for us.: Alka Lamba, one of the 20 disqualified AAP MLAs #OfficeOfProfit pic.twitter.com/BckXd6C11U

— ANI (@ANI) January 21, 2018
04:00 pm: Disqualified MLA Alka Lamba to India TV: AAP still stands strong despite the latest blow.
03:45 pm: The decision by the EC was made under political pressure, will take up the issue in the courts, even if elections are forced upon Delhi: AAP leaders in press conference post decision. 
We had hoped to go to the President asking him to give us a chance to present ourselves. Now we received this news. AAP will knock the doors of HC and even SC if the need be: Gopal Rai, Delhi Minister on recommendation of disqualification of 20 AAP MLAs approved by the President pic.twitter.com/TgyENWSgUf

— ANI (@ANI) January 21, 2018
03:35 pm: Meanwhile, BJP's Delhi President Manoj Tiwari congratulated the EC on the decision and denied all allegations. 
03:30 pm: Moments after the notification, Congress party held a press conference to reiterate its allegation that the decision to disqualify the MLAs was delayed to favour AAP in Rajya Sabha elections. 
"AAP has been helped by BJP & EC by delaying the decision for over 3 weeks. If decision would have come before 22nd Dec, these 20 MLAs would've been disqualified & couldn't have voted for RS elections," Ajay Maken, Congress on disqualification of 20 AAP MLAs by EC.
03:20 pm: President Kovind approves disqualification of 20 AAP legislators for holding office of profit
Not given a fair chance: AAP
​The disqualification comes before the leaders were granted requested time with the President Ram Nath Kovind to explain their stance. Earlier in the day, the 20 MLAs had a meeting with Chief Minister Arvind Kejriwal, Sisodia, and other senior AAP leaders at the chief minister's residence, when they decided to approach the President.
"The MLAs were not given opportunity to present evidence with them. They have a lot to tell and prove that there was no office of profit case. It is unconstitutional and illegal," Sisodia said earlier on Sunday.
"We are seeking appointment to meet the president and the MLAs will convey him that it is a biased recommendation and against natural justice," he said.
Sisodia said the AAP will also go to court on the matter.  "We hope to get justice in court and the case will not stand. Even if justice was denied us in the court, we will go to the people's court which is the biggest court," he said.  He also hit out at the BJP, saying it wants elections so that all schemes and projects initiated by the AAP government can be derailed.
"They have been trying hard, but none of their conspiracies succeeded. BJP people are having problem because of successes of the AAP government in three years. Now, we are going to do door-step delivery of services, new Mohalla clinics are coming up, CCTV project is in final stage. The government is now in fourth gear and the BJP is trying to stop us from working on these projects," he said.  Sarita Singh, AAP MLA from Rohtas Nagar, echoed Sisodia's views.
She said the parliamentary secretaries did not get any pecuniary benefit. On the contrary, the parliamentary secretaries had to spend money from their pockets, Singh said.
Alka Lamba, AAP MLA from Chandani Chowk, said all 20 AAP MLAs have sought appointment with the president at individual level. "Plus, a petition is also being drafted for all 20 MLAs," Lamba said
(With inputs from PTI)