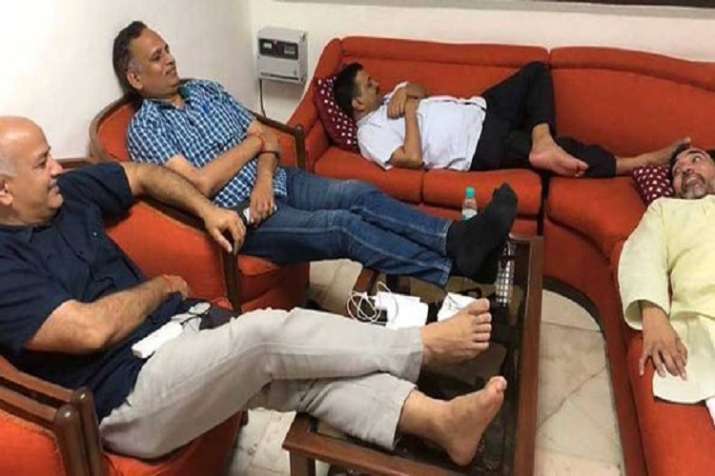 In what seems to be another round of confrontation between the Delhi government and  Lieutenant Governor's office, CM Arvind Kejriwal and his  cabinet colleagues Manish Sisodia, Gopal Rai and Satyendar Jain spent the night at the L-G office. Kejriwal and other Delhi ministers met Delhi L-G Anil Baijal at 5.30 pm on Monday (June 11) and since then they are waiting at the L-G office seeking an immediate action over their demands. 
The Kejriwal government wants the Delhi L-G to direct the IAS officers to end their 'strike' and action against officers who have struck work for 'four months'. 
"We have determination, truth is on our side. Truth is very powerful," Kerjriwal tweeted in Tuesday morning after spending the night at the L-G office along with other ministers.
A number of AAP MLAs, party's leaders and workers have also camped near the L-G office, and the police have barricaded the area. 
उनके पास CBI, पुलिस, ED, IT, IAS, ACB - सब कुछ है। फिर वो इतना घबराए क्यों हैं?

हमारे साथ सत्य है, आत्मबल है। इसीलिए चेहरों पर सुकून और मुस्कान है। सत्य में बड़ी ताक़त होती है https://t.co/YFf2RPEq4J

— Arvind Kejriwal (@ArvindKejriwal) June 12, 2018
However, the L-G office slammed Kejriwal's sit-in, saying it is another protest in the sequence of 'dharna without reason'.
 
A statement, issued by Baijal's office last evening, stated that the L-G was 'threatened' to summon officers and issue directions to them to end their 'strike' immediately. 
The AAP government and the bureaucracy have been at loggerheads since the alleged assault on Chief Secretary Anshu Prakash by AAP MLAs at Kejriwal's residence on the intervening night of February 19-20. 
(With inputs from PTI)