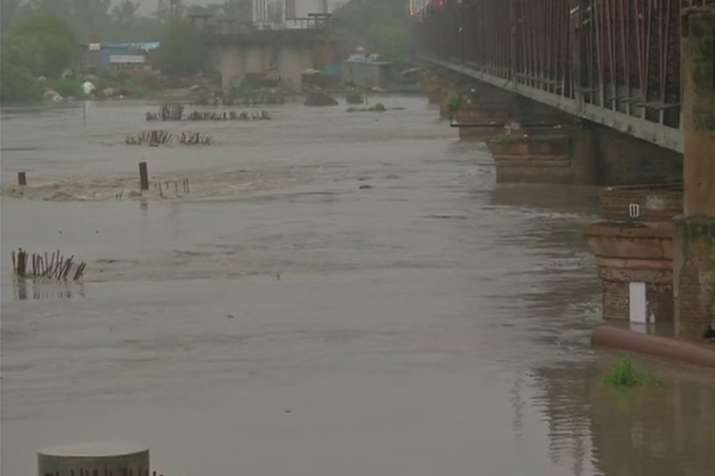 Incessant rains for the last three days and water released by Haryana from Hathni Kund barrage have pushed Yamuna river's level above the danger mark forcing the Delhi government to sound an alert. The government has alerted concerned authorities to make all preparations in view of the rising water level in Yamuna.
Meanwhile, the authorities in Delhi on Saturday began to evacuate hundreds of people living in the Yamuna catchment area as a flood threat loomed following a sharp rise in the river's level, officials said.
"The Water Level of River Yamuna at Delhi Old Rly Bridge reached at 204.10 metres at 7 pm on July 27 (above the warning level) and having rising trend," a statement issued by the irrigation department said.
"Our men are on the field through QRT (Quick Response Team) vehicle and three boats have been pressed into service today which are making announcements for people to evacuate the low-lying areas and also telling them the do's and don'ts in floods," the statement added.
The water level in Yamuna is expected to rise further later today which could result in flooding of low-lying areas.
"The Water Level of River Yamuna at Delhi Railway Bridge is expected to be 204.50 metres at 2100 to 2300 hours on July 28 and thereafter steady. (Warning Level 204.00 m)," the Central Water Commission Official Flood Forecast said on its Twitter handle.
Delhi: Water level in Yamuna river increases following rainfall; Visuals from Yamuna Ghat. Yesterday, 1,15,000 cusec of water was released from Haryana's Hathini Kund Barrage. pic.twitter.com/3PieLj1blz

— ANI (@ANI) July 28, 2018
Meanwhile, the weather department has predicted 'heavy to very heavy rainfall' in entire north India in the next couple of days which could result in further swelling of rivers in the region. 
The India Meteorological Department (IMD) said that a low-pressure area persisted over western  Uttar  Pradesh  and its neighbourhood and this system will bring widespread rainfall with isolated 'heavy to very heavy rainfall' over  Uttar Pradesh, Uttarakhand, Himachal Pradesh, Haryana, Chandigarh, Delhi and northwest Madhya Pradesh during the next two days.
The Yamuna passes through Yamunanagar, Karnal and Panipat districts in Haryana before entering Delhi.
Yamunanagar Deputy Commissioner Girish Arora said a high alert was declared in the district in the morning.
He said the Army has been put on alert along with a team of the National Disaster Management Authority.
However, there was no report of any damage to property or a loss of life in Yamunanagar district.
The Met Department in Chandigarh predicted that hill states in Haryana's neighbourhood will continue to experience heavy rains.
WATCH: Flood alert in Delhi after Yamuna crosses danger mark