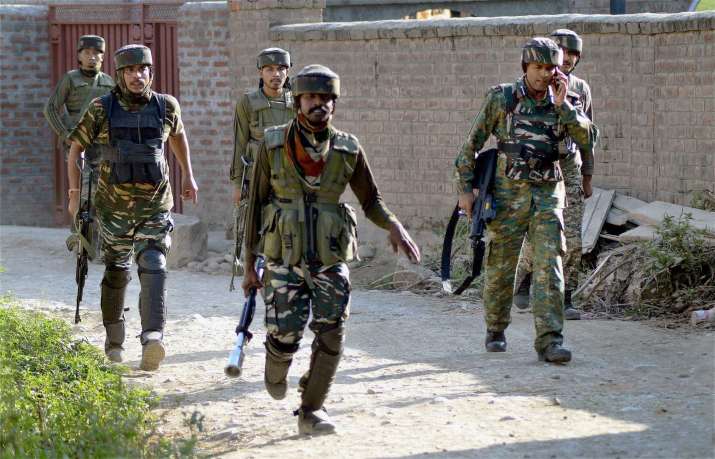 The death toll in last night's firing incident in Shopian district of Jammu and Kashmir has climbed to five after one more body was recovered from the scene today.
"Another body has been found at a distance from last evening's incident at Pahnoo Shopian," a police spokesman said. 
He said the deceased has been identified as Gowhar Ahmed Lone of Chitragam in Shopian. Sources said Lone's body was recovered from a car.
Four persons, including a militant, were killed in a firing incident last night in south Kashmir's Shopian district after the ultras fired upon a joint check-point of the security forces. 
A police official said a joint  MVCP (mobile vehicle check post) near Pohan in Shopian had signalled a car to stop, but it did not.  The Army men were fired upon and they retaliated, in which a militant was killed, the official said.
He said a weapon and a pouch were found near the militant's body.
He said when police were called in, they found a car some distance away in which three boys were found dead.
Srinagar-based Defence Spokesman Col Rajesh Kalia said the militant has been identified as Shahid Ahmad Dar, a resident of Jamnagri Shopian.
He said the three boys were over-ground workers and accomplices of the slain militant.
All the three were locals and residents of Trenz, Pinjoora and Imamsahib areas of Shopian.
Restrictions in Srinagar to prevent protests
Authorities imposed restrictions in parts of Srinagar city on Monday to prevent separatist-called protests, police said.
Separatist conglomerate, Joint Resistance Leadership (JRL) headed by Syed Ali Geelani, Mirwaiz Umer Farooq and Muhammad Yasin Malik, have called for a valley-wide protest shutdown against the gunfight in Shopian.
The police said: "Partial restrictions will also remain in force in some areas falling under the jurisdiction of Maisuma and Kralkhud police stations of Srinagar to maintain law and order." police said.
The State Public Service Commission has ordered the cancellation of Monday's civil services exams.
Internet and rail services have been suspended in south Kashmir.
Shops, other businesses, public transport remained shut in Srinagar. 
(With inputs from PTI, IANS)