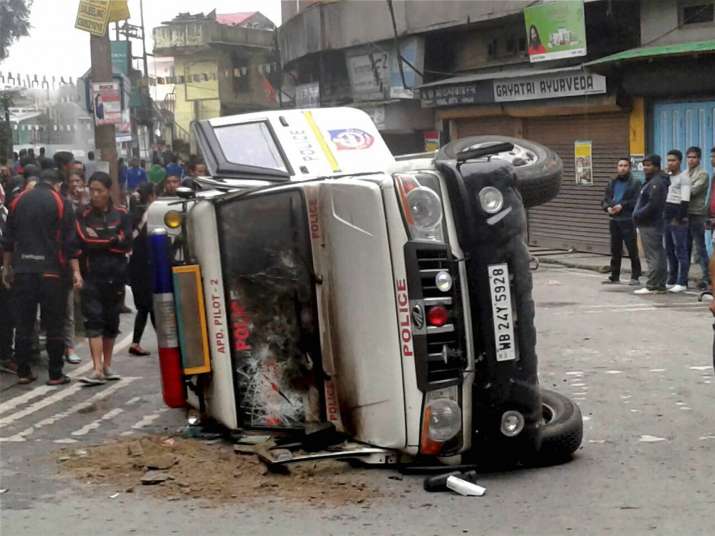 At least three people were killed in alleged police firing in Darjeeling and the Sonada toy train station set on fire as fresh violence on Saturday engulfed the movement for a Grokhaland state in the Darjeeling hills. However, the authorities confirmed only one death, calling it an accident. 
The Sonada station, along with a local police station and a traffic police booth, was set ablaze by demonstrators after the death of Tashi Bhutia, a Gorkha National Liberation Front (GNLF) supporter, late on Friday evening.
The violence prompted West Bengal Chief Minister Mamata Banerjee to appeal for peace and offer talks with the Hill parties. 
"Shun violence and allow the government to supply food and offer minimum services to the people of Darjeeling. This is my appeal. If you agree to my appeal, we can have a meeting in 10-15 days," said Mamata Banerjee.
The Gorkha Janamukti Morcha (GJM), leading the stir for a separate state to be carved out of West Bengal, said police shot dead three people. The group said Tashi Bhutia, Suraj Sundas and 40-year-old Samir Gurung died of bullet wounds.
"Samir was shot in the head when he was on his way to pay his last respects to Sundas, who was killed in Darjeeling around noon.
Gurung was probably shot by CRPF personnel," Gorkha Janmukti Yuva Morcha President Prakash Gurung was quoted by Hindustan Times as saying. 
This is second attack on the tourist attraction in the latest round of the Gorkhaland stir that began early June after the Trinamool Congress government made Bengali a compulsory subject for students in all schools in the state.