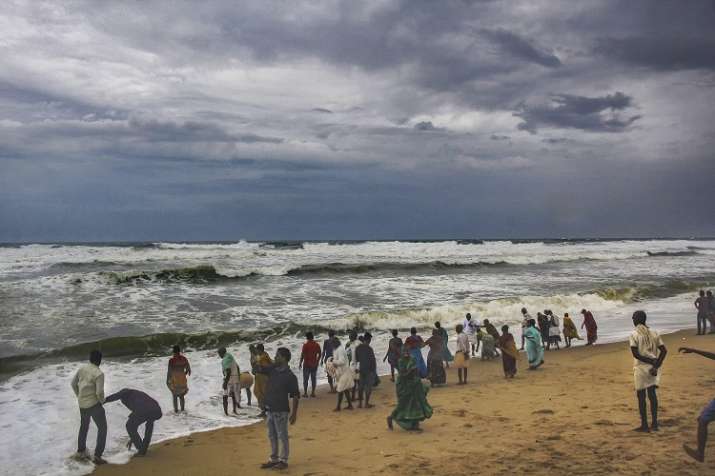 The Indian Coast Guard has positioned 34 disaster relief teams at different spots and four ships have been deployed to handle any exigency as cyclone Fani heads towards the eastern coast, where it is expected to make landfall at around 9:30 am today. 
Cyclone Fani currently lies 65 km from Gopalpur and 80 km from Puri in Odisha. 
Meanwhile, the Ministry of Home Affairs' control room helpline number for Cyclone Fani- 1938 has become operational and will provide the latest updates. 
According to the India Meteorological Department, cyclone Fani is very likely to cross Odisha coast between Gopalpur and Chandbali, south of Puri today forenoon, with maximum sustained wind speed of 170-180 kmph gusting to 200 kmph. 
The landfall process is very likely to continue by noon today, the IMD said. 
The fishermen have been prohibited from venturing into the sea and have been asked to vacate the seashore and move to relief centres.
Giving more information about the situation, Odisha CMO said, "More than 1 million people have been evacuated from vulnerable districts in last 24 hours." 
"Ganjam and Puri evacuated more than 3 lakh and 1.3 lakh people respectively to safe shelters. About 5000 kitchens started operating to serve people in the shelters," it said. 
Fani is billed as the most severe cyclonic storm since the super cyclone of 1999 that claimed close to 10,000 lives and left a trail of destruction in vast swathes of Odisha, according to the Joint Typhoon Warning Centre.
After crossing Odisha, the cyclone is likely to move towards West Bengal before tapering off. It is, however, still likely to impact parts of the northeast, Andhra Pradesh and Tamil Nadu.
Watch TV Coverage