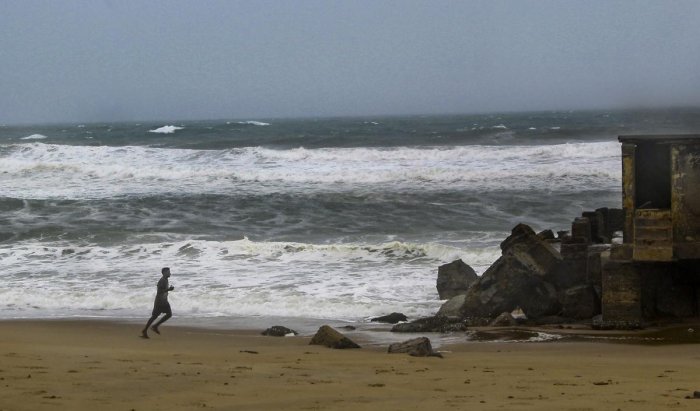 A massive operation was launched in Odisha on Thursday to evacuate over eight lakh people from low-lying coastal areas as the extremely severe cyclonic storm 'Fani' moved closer to the eastern coast.
The extremely severe cyclonic storm is expected to hit the Odisha coast on Friday. Other states on the eastern coast, such as West Bengal, Andhra Pradesh and Tamil Nadu, are also expected to be affected by the cyclone.
As per the latest bulletin of the India Meteorological Department (IMD), Fani lay centred over West Central Bay of Bengal about 430 km south-southwest of Puri in Odisha, 225 km south-southeast of Vishakhapatnam in Andhra Pradesh and 650 km south-southwest of Digha in West Bengal.
It is likely to move north-northeastwards and cross the Odisha coast near Puri on May 3 evening with maximum sustained wind speed of 170-180 kmph and gusting up to 200 kmph, Special Relief Commissioner (SRC) B P Sethi said.
The cyclone is being tracked by Doppler Weather Radars at Chennai, Vishakhapatnam and Machilipatnam, the SRC said.
People from low-lying and vulnerable areas of coastal districts are being shifted to safe places such as 880 cyclone centres, school and college buildings and other structures, he said.
According to the SRC, the evacuation of eight lakh people is the largest-ever evacuation operation in the country.