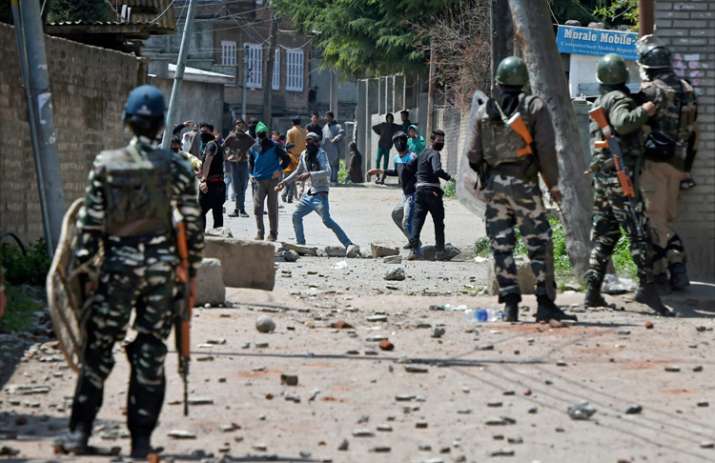 A curfew will be imposed in seven police station areas of the city on Sunday as a pre-emptive measure to prevent spread of violent protests which took place yesterday, following killing of Hizbul Mujahideen commander Sabzar Ahmad Bhat in an encounter with security forces in Pulwama. 
Separatists have also called for a two-day shutdown over the "use of force" against the protesters following Bhat's killing. One civilian was killed and at least 30 people were injured in violent clashes between protesters and security forces in the Kashmir Valley.
"Curfew will be imposed tomorrow in seven police station areas of the city as a precautionary measure," Farooq Lone, District Magistrate, Srinagar told PTI. 
He said the curfew will be imposed in Khanyar, Kralkhud, Maharaj Gunj, Maisuma, Nowhatta, Rainawari and Safakadal. 
Lone also said that educational institutions in the city will remain close on Monday. 
"The admit cards of students appearing in CET and other competitive examinations tomorrow will be treated as curfew passes.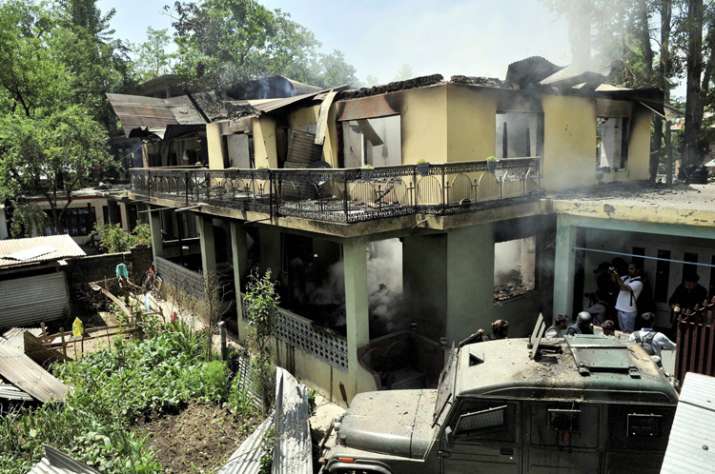 House where Hizbul Mujahideen commander Sabzar Ahmad Bhat was killed
The staff posted as invigilators can use their identity cards for reaching the centres and back home," he added.
The authorities in Ganderbal district have also imposed restrictions on movement of people under Section 144 (Power to issue order in urgent cases of nuisance of apprehended danger) of CrPC. 
"In view of the prevailing law and order situation and to avoid any damage to public and private properties, Section 144 of CrPC has been imposed within the territorial jurisdiction of Ganderbal district with immediate effect till further orders," District Magistrate, Ganderbal, Tariq Hussain Ganai said. 
Abid Rashid, DM, Anantnag said that strict restrictions would be in place in the district tomorrow to prevent breach of peace or loss of life in view of the prevailing situation.
Mobile internet services have also been suspended across the valley to prevent rumour-mongering, officials said. 
Violence erupted at more than 50 places in the valley after the news of Bhat's killing spread like wildfire. 
Stone-pelting youth were out on streets in Srinagar, Tral and several big and small towns in the valley, attacking security forces. 
Separatists call for bandh after protests in Valley
The separatists also called for a march to Tral, in south Kashmir's Pulwama district, on May 30 to pay tributes to Bhat and seven other militants killed in two separate encounters in the Valley today. 
While Bhat, who succeeded Burhan Wani, was killed along with another militant in Soimoh village of Tral, the security forces foiled a major infiltration bid along the Line of Control in Rampur sector in north Kashmir's Uri, killing six militants today. 
A civilian was killed allegedly in cross-firing between militants and security forces during the encounter in Tral area. At least 30 people have been injured in the clashes between protesters and security forces in different parts of the Valley. 
"We condemn the use of brute force against the unarmed civilians, injuring hundreds of them and call for a strike on Sunday and Monday," a joint statement from separatists -- chairmen of both factions of Hurriyat Conference, Syed Ali Shah Geelani and Mirwaiz Umar Farooq, and JKLF chief Yasin Malik, said here. 
The separatists asked people in the valley to turn up in large numbers in Tral on Tuesday to pay tributes to the slain militants. 
They said that calling for a strike has become necessary to protest the "state terrorism" unleashed by the forces on the civilian protesters.