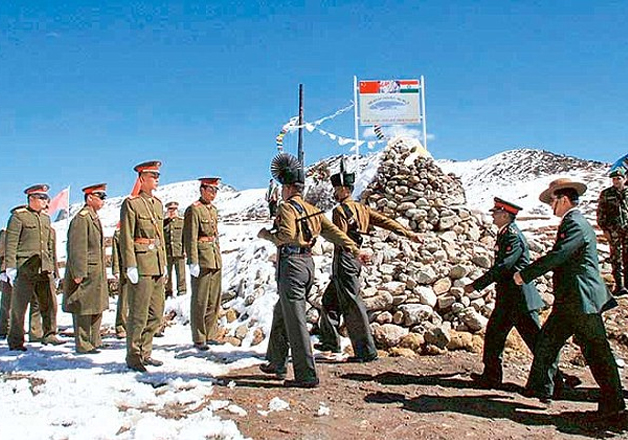 The Indian Army and Indo-Tibetan Border Police (ITBP) personnel are locked in a stand-off with the China's People's Liberation Army (PLA) along the Line of Actual Control (LAC) in Demchok sector of Leh district since yesterday afternoon.
According to reports, around 55 PLA personnel entered the area and halted the work of an irrigation canal in an aggressive manner, being built under the MNREGA scheme.
This prompted the Army and the ITBP personnel to rush to the spot and stop the high-handedness of Chinese troops.
The incident took place in Demchok sector, located 250 km east of Leh, yesterday where the work for linking a village with 'Hot spring' was being undertaken under the MNREGA.
The Chinese troops took positions on the perceived Line of Actual Control (LAC) and demanded that work be stopped as either side needs to take permission before undertaking any work, a claim disputed by the Indian side which says that as per the agreement between the two countries, information about construction needs to be shared only if it was meant for defence purposes. 
Both sides pulled out banners and have been stationed on the ground, the sources said, adding the Army and ITBP was not allowing the Chinese to move an inch ahead despite the PLA claiming that the area belonged to China. 
The area had witnessed a similar incident in 2014 after it was decided to construct a small irrigation canal at Nilung Nalla under the MNREGA scheme that had been a sore point with the Chinese. 
The PLA had mobilised villagers from Tashigong to pitch Rebos (tents) at Charding-Ninglung Nallah (CNN) Track Junction to protest Indian action. 
This time, the sources said, there were 55 personnel from the Chinese PLA whereas nearly 70 personnel from ITBP and army had fortified the area and prevented their march deeper into Indian territory, the sources said. 
The 'Hot Spring' is different from the one in Chashool where Police day is observed in memory of 10 CRPF men killed in 1959 by Chinese troops.
With PTI Inputs