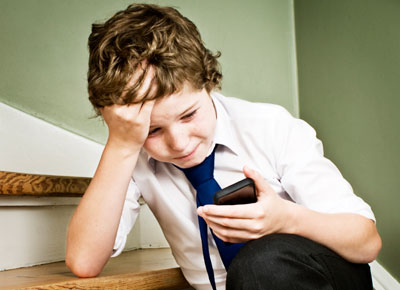 In a scathing commentary on the lack of preparedness of Indian lawmakers and agencies in protecting children from the menace of online abuse, a report by UNICEF India released on Thursday said that the police and judiciary in India have failed to appropriately address the issue.
The report, titled 'Child Online Protection in India', released on Thursday, maps the existing laws on safeguarding children from online exploitation, and also puts forward recommendations to ensure cyber safety. According to the report, there are 40 lakh Internet users in India, and an estimated 13.4 lakh Indian children use mobile phones.
Social networking site Facebook and cross-platform application WhatsApp are increasingly posing a threat to the security of children online, it said.
The report also castigates the police and judiciary in India for its failure in responding to complaints of online harassment of children. 
"Such cases are often not registered or investigated due to limited understanding of child online offences system. Also, there is inadequate forensic capacity to investigate online offences and inadequate cooperation by India for investigating international offences," the report states.
Besides under reporting of cyber-crimes against children in the country, the issue has received very little attention and is not even included in the National Crime Records Bureau statistics as a separate category, states the report.
The report further picks holes in the effectiveness of the judiciary in handling the menace. 
"Even as the cyber appellate tribunal, to appeal in case of online harassment cases was formed in 2006, a judge to preside and decide on the cases has not been appointed since 2011," the report stated.
The report also points to loopholes in the Indian law. According to the report, motional harassment, cyber-bullying, sexting, social exclusion, ideological indoctrination or exposure to inappropriate content do not constitute legal offences under Indian law. 
UNICEF further observes in its report that cyber-bullying, cyber-stalking, grooming, webcam sexual abuse, pornography are just some of the several forms of sexual abuse through Internet.
Speaking at the release of the report, Ajay Kumar, Additional Secretary in the Ministry of Electronics and Information Technology, said the ministry is taking steps to block sites depicting child abuse.
"However, given the nature of the menace, this requires a collective effort from all stakeholders, including service providers, content providers, civil society and regulatory authorities," he said.
The report states that offline forms of crime and violence against children are ending new forms of expression in the online world and their effects on children are amplified. 
Being able to stay anonymous online and impersonate others may embolden people into offensive and criminal acts and lower the deterrent potential of laws.
The report also stresses the importance to empower parents, professionals and policymakers to play an active role in preventing and protecting children from child online abuse and exploitation.
A safe online ecosystem for children requires technical solutions and a high degree of preparedness, collaboration and coordination among stakeholders.
"No single agency or government institution can ensure the safety of children from online threats and violence," said Louis-Georges Arsenault, Unicef India Representative.
"This calls for all relevant government institutions, the private sector, international organisations, media, academia and civil society to work together to build structures, mechanisms and capacities to prevent and respond to the specific threats and risks posed to children," he added.
(With agencies)