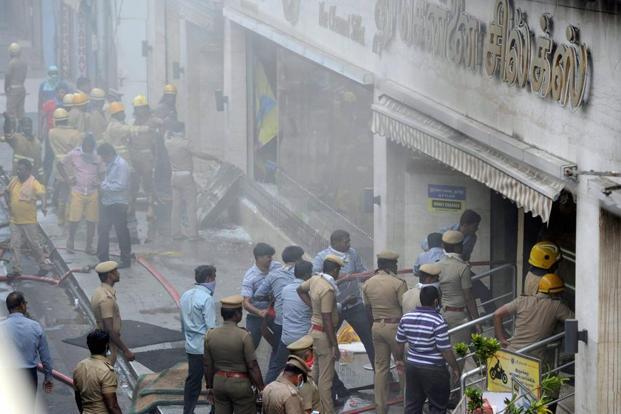 Over 150 fire service personnel are still battling to douse the fire that broke out at Chennai Silks showroom in Usman Road of T Nagar, the commercial hub of Chennai. The fire continues to engulf the multi-storied building of Chennai Silks, a saree and textile store, for the second consecutive day with thick dark smoke continuing to bellow out of the store.
The top four floors of the seven-storied building caved in this morning owing to sustained intense heat.
As a precautionary measure, the Chennai Police have cordoned off the T Nagar locality which has affected the functioning of other business installations and offices in the area. 
Narrow roads and the absence of easy approach have made the job tough for the fire service personnel who are trying their best to douse the flames.


On early Wednesday morning, passers-by noticed thick smoke emanating from the Chennai Silk showroom at 4am. 
Six fire tenders and several personnel were immediately pressed into the rescue operation. 12 people were rescued from the building by the fire service personnel. There is no report of any human casualty or inury in this mishap.
As of now, as many as 21 fire tenders in addition to three skylift trucks are involved in the operations.
"By using skylift we have rescued 12 people. None was injured...smoke is emanating from the basement and it is being extinguished," a fire official told media persons.


Material including jewellery and silk sarees worth several lakhs have been reportedly destroyed in the fire so far.