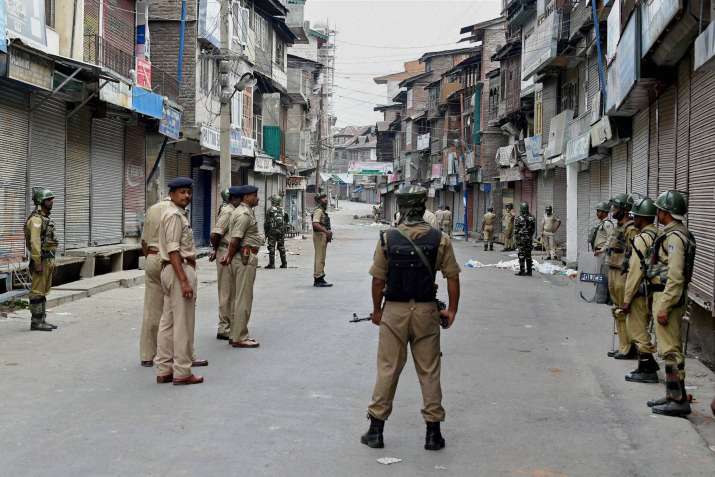 New Delhi: To scale down the violence that was triggered after the killing of Hijbul Mujahideen militant Burhan Wani, the central government today rushed about two thousand additional Central Reserve Police Force (CRPF) troops to Kashmir.
Official said that a total of 20 companies are being rushed to the valley to deal with situation. Last week, about 2,800 CRPF troops were sent to the state.
They said the reinforcements will be deployed to further enhance security arrangements in the valley, where the outbreak of violence — following the death of Hizbul commander Burhan Wani — has left many dead and over 3,100 injured.
"Some of the fresh units will exclusively render the task of road opening parties in order to secure the movement of security forces convoys," a senior official said. Curfew remained in force in Kashmir and life was paralysed for the ninth day today.
"All 10 districts of Kashmir valley continue to remain under curfew today as a precautionary measure for maintaining law and order," a police official said.
He said the decision to continue the curfew was taken to maintain law and order as one person was killed in fresh violence in Kupwara district yesterday.
Police and paramilitary personnel have been deployed in strength across the Valley for strict implementation of the prohibitory orders, the official said.
He said the situation so far across the Valley was peaceful.
"We are watching the situation and hope the day passes off peacefully," he added.
While all telephone services to three north Kashmir districts were snapped yesterday, mobile telephone services in the Valley remained suspended to prevent any rumour-mongering. Only BSNL mobiles are working in the remaining seven districts of the valley.
Mobile Internet services continued to remain suspended for the seventh day today while trains are also off the tracks in the Valley as a precautionary measure.
Violent protests have rocked Kashmir since July 9 following killing of Burhan Wani and two of his associated in an encounter with security forces a day earlier in Kokernag area of Anantnag district.
In the ensuing clashes with security forces, 39 persons including a cop have been killed while 3160 persons including 1500 security force personnel have been injured.
Normal life has remained paralysed since last Saturday in ashmir on account of separatist sponsored-strike and curfew-like restrictions imposed by authorities.
The separatists groups -- both factions of Hurriyat Conference and JKLF -- have been issuing strike calls, a practice reminiscent of 2010 summer agitation.
The separatists groups have extended the strike call till Monday evening.
(With inputs from PTI)