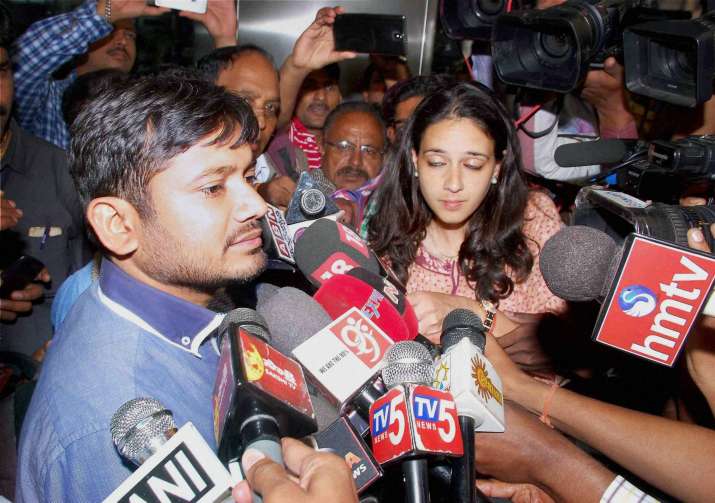 Hyderabad: JNU Students Union President Kanhaiya Kumar today accused the central government of handling the JNU row oppressively in order to shift focus from the suicide case of Rohith Vemula. 
"The government smartly made issue of JNU to keep Rohit Vemula's issue under carpet. But we all know that even if we are different, we are one when it comes to saving justice in the nation. That's why as soon as I came out jail, on behalf of JNUSU, I thought I would go to Hyderabad. My first visit outside Delhi would be Hyderabad," Kanhaiya said during a press conference in Hyderabad today.
Kanhaiya Kumar, who is on a visit to Hyderabad, also blamed the Modi government for subduing the voice of students in several universities across the nation. 
Meanwhile, the JNUSU president lashed out at Hyderabad Central University Vice Chancellor Prof Appa Rao and supported the Hyderabad University students for protesting against the VC. 
The Hyderabad University witnessed protests after Vice Chancellor Appa Rao Podile resumed office yesterday after going on leave amid the storm following the suicide of Vemula.
The students, who have been protesting ever since Vemula committed suicide, vandalised the VC's residence where he was due to address the press in a shortwhile.
Kanhaiya said that they will fight with the central government to pass the Rohith Vemula Act so that no such incident occurs in future. 
"We have experience with JAC for various struggles and we will take this fight forward... This struggle will continue until 'Rohith Act' is implemented... To fulfil his (Rohith) dreams of social justice on the campus," he said.
Kumar, on meeting Rohith Vemula's mother Radhika today, compared her with Bhagat Singh's mother. 
On Tuesday, Kanhaiya had met Congress Vice President Rahul Gandhi at his Tughlaq lane residence to thank him for his support during the ongoing controversy.  
Earlier today, Kanhaiya said that he will participate and address a public meeting organised by the Joint Action Committee for Social Justice on the HCU campus this evening, "if the police permits".
The HCU authorities, however, categorically said they would not allow outsiders, including media and political party leaders, on the campus in view of the prevailing situation.
(with PTI inputs)