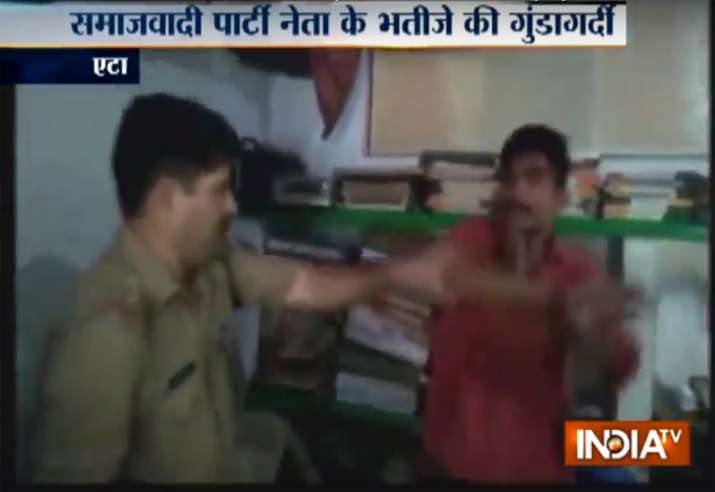 A kin of a Samajwadi Party leader was caught on camera assaulting a cop inside a police station in Etah district of Uttar Pradesh. 
The man, said to be the nephew of MLC Ramesh Yadav, slapped sub-inspector Jitendra Kumar before hurling abuses and threats at other police officers. The incident took place on Saturday.
"Mohit Yadav is my name and this man...," the man said in Hindi before hitting the cop. 
Yadav has been arrested and charged with assault and obstructing an official from duty. Senior officials said he will be charged with Gangster Act too. 
Mohit is the nephew of Ramesh Yadav, a member of the UP's Legislative Council and a senior leader of the Samajwadi Party.
Before hitting the cop inside the police station, Mohit is said to have created ruckus at the district hospital in Etah. He had taken a relative to the hospital for an X-Ray where he beat up a lab technician and a doctor following a disagreement. 
The hospital called the police which took him to the police station where he assaulted a cop and abused other officers.  
"He misbehaved with two people at the hospital and introduced himself as the nephew of MLC Ramesh Yadav. He was accompanied by two people. He misbehaved with the police when they went to nab him. He is saying that he was under the influence of alcohol. However, there is no medical confirmation regarding that. He has been arrested and we will take strict action against Gangster Act," a police officer said.