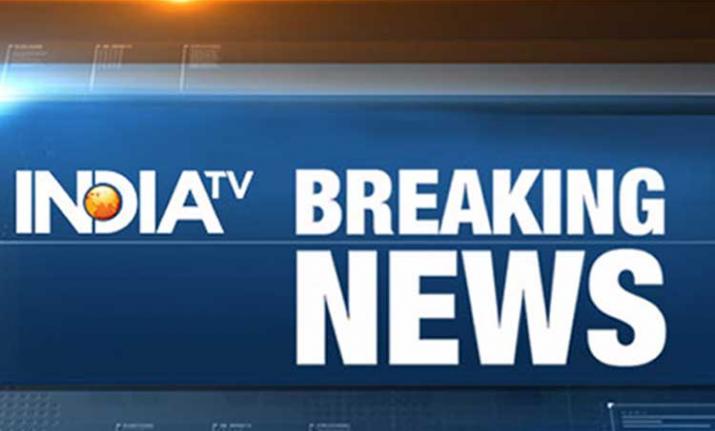 Daily dose of news plays very important role in our daily life. For some people, the morning is incomplete without knowing about what's happening across the world. Some digital-savy people have a habit of consuming news even when they are travelling or in their free time. In today's world, where people rely on news websites for everything that's happening around, IndiaTV News provides you all breaking news, latest news, breaking story videos, Live TV and top shows of IndiaTV, country's leading news channel on a single platform to ensure you don't miss anything important.
Internet, Twitter, Facebook are buzzing with breaking news and news alerts from India and rest of the world. You can find here the LIVE COVERAGE of all breaking news alerts and latest news updates on just one page. IndiaTV Digital covers all top news as and when it happens and ensures its readers don't miss anything important.
Breaking News, Latest News Live Updates of August 30
07:00 pm: For Rahul Gandhi, reform is akin to 'deform': BJP
06:00 pm: The objective of Demonetisation was very clear. It was to help PM Modi's friends. Demonetisation was not a mistake, it was a deliberate move. During UPA regime, NPAs were Rs 2.5 lakh crore. It has now jumped to Rs 12.5 lakh crore: Congress President Rahul Gandhi
05:33 pm: Defamation suits by Anil Ambani will not going to hide the truth: Rahul Gandhi 
05:04 pm: In the sector of digital connectivity, India is committed to increase its National Knowledge Network in Nepal, Bhutan, Bangladesh and Sri Lanka: PM Narendra Modi at the Inaugural Session of the BIMSTEC Summit in Kathmandu
04:26 pm: Unidentified miscreants shot dead the guard of a cash van, looted 52 lakh rupees from the van and fled the spot in Samastipur in Bihar
02:49 pm: We are doing an analysis of items recovered during the searches. The Supreme Court has asked us to file a detailed affidavit and we will do so. We will take the investigation to a logical end: Dr K Venkatesham, Pune Police Commissioner on Bhima Koregaon violence case
02:45 pm: We are ready to join with them (DMK), he (MK Stalin) is not ready to accept us: Expelled DMK leader MK Alagiri in Madurai
02:44 pm: Union Finance Minister Arun Jaitely inaugurates the new Competition Commission of India (CCI) building in Delhi
#NewsAlert | Union Finance Minister #ArunJaitley inaugurates the new Competition Commission of India (CCI) building in Delhi pic.twitter.com/xLKlP3H0az

— India TV (@indiatvnews) August 30, 2018
02:20 pm: Rajasthan government approves 1 per cent reservation to Gujjar community.
02:04 pm: Delhi High Court issues notice to EC and a newly registered party named Aapki Apni Party. AAP had approached court against the registration of the party on grounds that the abbreviation of this party would confuse the voters. Next date of hearing is Nov 13
01:59 pm: We will have to abide by the high court's decision: Haryana CM Manohar Lal Khattar on Punjab and Haryana High Court restraining Haryana government from withdrawing cases registered in connection with 2016 Jat agitation
01:55 pm: US and allies can have missiles ready to strike Syria within 24 hours, says Russian Foreign Ministry
01:14 pm: Senior Congress leaders in core group meeting have advised Rahul Gandhi to not accept RSS program invitation
01:12 pm: Medical camps will be set up at various places to help people dealing with health issues: BJP President Amit Shah
01:11 pm: On 16 September, we will observe one month of Atal Bihari Vajpayee ji's demise: BJP President Amit Shah
12:59 pm: BJP President Amit Shah addresses press conference in Delhi 
12:14 pm: Karnataka Chief Minister HD Kumaraswamy meets Congress President Rahul Gandhi in Delhi 
#NewsAlert | Karnataka Chief Minister #HDKumaraswamy meets Congress President #RahulGandhi in Delhi pic.twitter.com/hvHysRXHNR

— India TV (@indiatvnews) August 30, 2018
12:12 pm: BIMSTEC leaders including PM Narendra Modi and Bangladesh PM Sheikh Hasina meet Nepal President Bidhya Devi Bhandari in Kathmandu
#BIMSTEC leaders including PM #NarendraModi and Bangladesh PM Sheikh Hasina meet Nepal President Bidhya Devi Bhandari in Kathmandu pic.twitter.com/yPYDrxXdED

— India TV (@indiatvnews) August 30, 2018
12:11 pm: India is likely to become 5th largest economy by surpassing Britain next year, says Finance Minister Arun Jaitley
12:09 pm: Supreme Court reserves verdict on SFIO's plea to stay Delhi High Court order in Bhushan Steel ex-promoter Neeraj Singal's case
11:52 am: A petition had been moved in SC seeking its direction to establish special courts to expeditiously try criminal cases registered against MPs and MLAs. SC asked the Centre to file its detailed response by September 5 in the case, when it would take up the matter for hearing
11:51 am: Supreme Court pulls up Centre for not furnishing details of MLAs and MPs who have criminal records against them
11:47 am: Doctors of Mumbai's Asian Heart Institute (Mumbai) will do a check up of Lalu Prasad Yadav and then inform Court about his condition: Prabhat Kumar, Yadav's lawyer after Yadav surrendered before Court today
11:23 am: RJD Chief Lalu Prasad Yadav surrenders before Ranchi court after 112-day parole in fodder scam; 'have full faith in judiciary', he says
11:21 am: Body of second terrorist recovered from the ongoing encounter site in Bandipora's Hajin, Jammu and Kashmir 
11:17 am: Newly appointed Jammu and Kashmir Governor Satya Pal Malik receives guard of honour in Srinagar
#NewsAlert | Newly appointed #JammuAndKashmir Governor #SatyapalMalik receives guard of honour in Srinagar pic.twitter.com/8ATl0cXscj

— India TV (@indiatvnews) August 30, 2018
11:15 am: RJD Chief Lalu Prasad Yadav reaches CBI court in Jharkhand. He had been ordered to surrender in fodder scam today by Ranchi High Court
11:01 am: Today I completed 100 days in CM office so I am here to pay my regards to the Congress President. Rahul Ji is happy with the way Karnataka govt is running. Our govt is able and is functioning smoothly: Karnataka CM HD Kumaraswamy after meeting Rahul Gandhi
10:27 am: Jharkhand Vikas Morcha chief Babu Lal Marandi meets Lalu Prasad Yadav in Ranchi. Yadav has been ordered by the high court to surrender today in connection with fodder scam
#NewsAlert | Jharkhand Vikas Morcha chief Babu Lal Marandi meets #LaluPrasadYadav in Ranchi. Yadav has been ordered by the high court to surrender today in connection with #FodderScam pic.twitter.com/2JBPm8o9b6

— India TV (@indiatvnews) August 30, 2018
10:25 am: Those who stalled Parliament in past, demanding JPC investigation, are today mocking meaning of JPC. Looks like they not only have short term memory but are also insulting Parliament. They should know JPC is constitutional provision mandated to probe scams: Ahmed Patel
10:11 am: Congress has always made false allegations, I don't know whose car was it, I have no idea about this incident: Union minister Narendra Singh Tomar on allegations of his car at the railway platform in Madhya Pradesh's Gwalior
09:56 am: Petrol price at Rs 78.30/litre in Delhi and Rs 85.72/litre in Mumbai. Diesel at Rs 69.93/litre in Delhi and Rs 74.24/litre in Mumbai
09:41 am: We should discuss and decide whether rehabilitation should be done in the areas which are prone to landslide and floods. Rs 738 crores has been received in the CM's distress relief fund till August 28: Kerala CM
09:22 am: Sensex falls 21.13 points to 38,701.80 in opening trade; Nifty at 11685.65
09:19 am: Rupee hits new record low of 70.82, falls 23 paise against US dollar
09:12 am: One terrorist killed in ongoing encounter in Bandipora's Hajin, Jammu and Kashmir 
09:03 am: Visuals of PM Narendra Modi in Kathmandu ahead of BIMSTEC summit, he was welcomed by Nepal's Defence Minister Ishwar Pokhrel
Visuals of PM Narendra Modi in Kathmandu ahead of #BIMSTECSummit, he was welcomed by Nepal's Defence Minister Ishwar Pokhrel pic.twitter.com/imFYyMyFBu

— India TV (@indiatvnews) August 30, 2018
08:58 am: Shakeel, son of Hizbul Mujahideen chief Syed Salahuddin arrested from Srinagar's Rambagh, Jammu and Kashmir, by NIA team along with CRPF and local police 
08:42 am: PM Narendra Modi arrives in Nepal's Kathmandu for BIMSTEC summit
08:30 am: Bharatpur district education officer in Rajasthan issues directive, warns of salary deduction if teachers are not present in a state government function on 5th September (Teacher's day)
08:12 am: Principal shot at by a student who was rusticated from the school in Bijnor's Seohara, Uttar Pradesh. Victim admitted to hospital, student on the run. Police begin investigations
07:48 am: Bhima Koregaon activist Varavara Rao brought to his residence in Hyderabad after Supreme Court ordered house arrest for the five accused
07:46 am: We hope the new government of Pakistan will, rather than indulge in polemics, work constructively to build a safe, stable, secure and developed South Asian region, free of terror and violence: Syed Akbaruddin, India's Permanent Representative to the United Nations
07:41 am: Regurgitating a failed approach, which has long been rejected, is neither reflective of pacific intent nor a display of pacific content: Syed Akbaruddin, India's Permanent Representative to the United Nations
07:32 am: We remind Pakistan, the one isolated delegation that made unwarranted references to an integral part of India, that pacific settlement requires pacific intent in thinking and pacific content in action: Syed Akbaruddin, India's Permanent Representative to the United Nations
07:11 am: Visuals from the residence of Varvara Rao in Hyderabad. He will be under house arrest till September 5 following Supreme Court's direction. He was arrested on August 28 in connection with Bhima Koregaon violence
Visuals from the residence of Varvara Rao in Hyderabad. He will be under house arrest till September 5 following Supreme Court's direction. He was arrested on August 28 in connection with #BhimaKoregaonViolence pic.twitter.com/BZ97X3Grbv

— India TV (@indiatvnews) August 30, 2018
06:54 am: Prime Minister Narendra Modi leaves for a two-day visit to Nepal. He will participate in 4th BIMSTEC Summit in Kathmandu
06:42 am: Encounter breaks out between terrorists and security forces in Bandipora's Hajin, Jammu and Kashmir. Two to three militants are believed to be trapped
06:23 am: 3 members of a family found dead in Pataudi's Brijpura village in Gurugram. 4th member (1-year-old child) died in the hospital. Investigations on