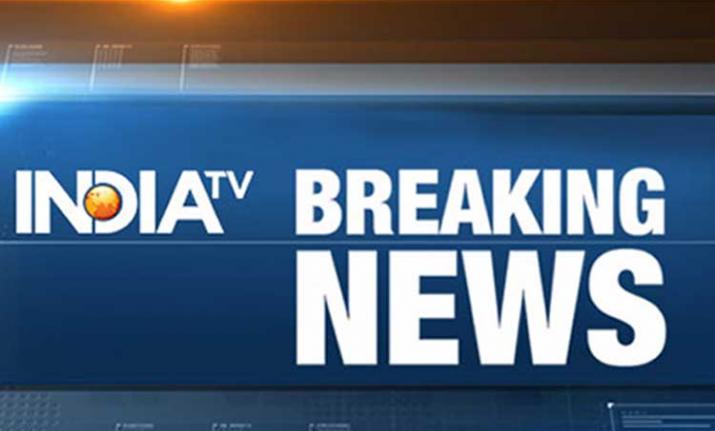 Daily dose of news plays very important role in our daily life. For some people, the morning is incomplete without knowing about what's happening across the world. Some digital-savvy people have a habit of consuming news even when they are travelling or in their free time. In today's world, where people rely on news websites for everything that's happening around, IndiaTV News provides you all breaking news, latest news, breaking story videos, Live TV and top shows of IndiaTV, country's leading news channel on a single platform to ensure you don't miss anything important.
Internet, Twitter, Facebook are buzzing with breaking news and news alerts from India and rest of the world. You can find here all breaking news alerts and latest news updates on just one page. IndiaTV Digital covers all top news as and when it happens and ensures its readers don't miss anything important.
BREAKING NEWS OF OCTOBER 27:
4:50 PM: Amit Shah who threatened to topple our government should remember that this government came to power, not at the mercy of BJP, but the people's mandate. His message is to sabotage the people's mandate: Kerala CM Pinarayi Vijayan
4:45 PM: Supreme Court will hear from Oct 29 the pleas related to Ayodhya title suit in connection with Ram Janmabhoomi Babri Masjid case. On Oct 29, CJI Ranjan Gogoi & 2 other judges may decide whether the case would be heard on a day-to-day hearing or may fix the hearing schedule.
4:30 PM: Sanjay Kumar Mishra takes charge as the Interim Director of Enforcement Directorate (ED).
4:00 PM: Opposition leader (Jagan Mohan Reddy) came at Visakhapatnam airport. Some person attacked him with knife. Airport is under Central Industrial Security Force. After some time, they handed over that fellow & our ppl took him into custody. But BJP accused TDP govt: Andhra Pradesh CM
3:40 PM:  Mortal remains of Army soldier Rajendra Singh brought to his native place in Pithoragarh. He lost his life after being attacked by stone pelters when he as part of Quick Reaction Team was providing security to a Border Roads Organisation convoy in Anantnag on Oct 25
3:30 PM: CBI inquiry is going on, it's under trial. Even our PM had said that all culprits in political corruption cases will be punished within one year time. On the contrary, some people are escaping. You're supporting tainted parties & victimising those who oppose you:Chandrababu Naidu
3:00 PM: BJP talks of 'mandir'and 'masjid', whenever I talk of poor: OP Rajbhar, UP Minister & Suheldev Bharatiya Samaj Party chief
2:40 PM: Siliguri: Directorate of Revenue Intelligence (DRI) arrested two persons in possession of 55 pieces of foreign made gold bars weighing 55 kg. Both sent to seven days police custody today. Further investigation underway
2:20 PM:  AIADMK whip Rajendran S writes to Tamil Nadu assembly speaker P Dhanapal seeking action against three party MLAs Kalaiselvan S, Rathnasabapathy E & Prabhu who attended TTV Dinakaran's meeting in Madurai.
1:10 PM: In the name of court judgement, those who want to incite violence let me tell you that there are many temples which run on different rules and norms: Amit Shah in Kannur #SabarimalaTemple #Kerala
12:57 PM: Saudi journalist Jamal Khashoggi's (in pic) killers 'will be prosecuted in Saudi Arabia': Saudi Foreign Minister Adel Ahmed Al-Jubeir, reports AFP
12:53 PM: Today in Kerala a struggle is going on between religious beliefs and state Govt's cruelty. More than 2000 activists and workers from BJP, RSS and other orgs have been arrested. BJP is standing like a rock with devotees, Left Govt be warned: Amit Shah in Kannur
12:52 PM: Sri Lanka president Maithripala Sirisena suspends parliament amid political crisis: AFP
12:50 PM: Sanjay Mishra appointed interim director of Enforcement Directorate(ED) by Appointments Committee of the Cabinet (ACC), for a period of three months or till the appointment of a regular incumbent
12:43 PM: A bench headed by Chief Justice of India Ranjan Gogoi had sought from the Centre the details of decision making process without the technical details and the prices of the #Rafale fighter jets. The Supreme Court has fixed the case for hearing on October 29.
12:40 PM: Central government has submitted before Supreme Court the details of decision making process in the #Rafale deal with France with Court Secretary General, in sealed cover.
12:30 PM: Activists Vernon Gonsalves and Arun Ferreira, both accused in Bhima Koregaon case have been sent to Police custody till 6 November by Pune Sessions Court.
12:00 PM: Supreme Court rejects review plea of historian Romila Thapar against the verdict that refused SIT probe into arrests of five activists in Bhima Koregaon case and allowing Maharashtra Police to continue with the investigation.
11:50 AM: Ousted Sri Lanka PM Ranil Wickremesinghe seeks emergency parliament session: AFP
11:37 AM: Suspected ISI agent Zahid arrested by Police in Bulandshahr
11:30 AM: Delhi: Former NCP leader Tariq Anwar joined Congress in presence of party president Rahul Gandhi
READ FULL STORY: https://www.indiatvnews.com/news/india-tariq-anwar-joins-congress-nearly-a-month-after-quitting-ncp-over-sharad-pawar-s-defence-of-pm-modi-on-rafale-deal-476476
11:10 AM: PM Modi leaves on two-day visit to Japan
10:55 AM: Five police personnel including a sub-inspector suspended for providing preferential treatment to Dawood Ibrahim's brother Iqbal Kaskar in Thane jail. 
10:40 AM: As per Supreme Court order, the house arrest was supposed to end on 26th Oct and time limit by SC ends at 12 midnight, hence contempt of honourable court was committed(by Police): Defence Lawyer Sidharth Patil in Pune Court 
10:23 AM: We demand 14 days of police custody of both the accused(Vernon Gonsalves and Arun Ferriera): Public Prosecutor Ujwala Pawar in Pune Court on Bhima Koregaon case 
10:07 AM: Pakistan is fully aware they can never succeed, terror is another way by them to keep the pot boiling. They want to stall development in Kashmir but Indian state is strong enough to counter everything, and we are fully capable of carrying out different ops: Army Chief Bipin Rawat
10:05 AM: Jawan who lost his life after being attacked by stone pelters was guarding a border roads team which was constructing roads, and then we have some ppl saying don't treat stone pelters like OGWs(over ground workers) of terrorists: Army Chief General Bipin Rawat
9:45 AM: Ashutosh, son of Lok Janshakti Party MP Veena Devi dies in a car accident on Greater Noida expressway this morning.
9:11 AM: Swami Sandeepananda Giri's ashram in Kundamankadavu in Thiruvananthapuram attacked by unidentified assailants early morning. Two cars and a two-wheeler belonging to the ashram set ablaze
8:56 AM: Army Chief General Bipin Rawat pays tribute at Amar Jawan Jyoti on Infantry Day
8:31 AM: Seven elephants dead after being reportedly electrocuted when they came in contact with a live wire near Kamalanga village in Dhenkanal district of Odisha.
8:23 AM: Terrorists lobbed a grenade on a CISF ASI deployed for security of a power grid at Wagoora Nowgam in Srinagar, late last night. ASI Rajesh Kumar lost his life in the incident. Area cordoned off
7:44 AM: Cesar Sayoc, a Florida fan of Donald Trump and a registered Republican with a criminal past, is arrested and charged with mailing 13 bombs to opponents of the US president in a week-long spree: AFP
7:09 AM: Amount of money spent on election, amount of efforts taken for elections...we political people find so many constraints while taking decisions because every decision impacts one or the other election...Even decision making process is hampered by spread of election: Maharashtra CM Devendra Fadnavis
7:07 AM: The Idea of One Nation One Election should percolate to local body as well, not just Lok Sabha & Vidhan Sabha but all the local bodies including every single election should happen at a time: Maharashtra CM Devendra Fadnavis 
6:56 AM: Vice President M. Venkaiah Naidu will embark on a week-long three-nation tour of Africa from October 31 that will see him visiting to Botswana, Zimbabwe and Malawi
6:44 AM: Congress President Rahul Gandhi will meet ex-servicemen at party Headquarters later today. 
6:37 AM: Petrol and diesel prices in Delhi today are Rs 80.45 per litre (decrease by Rs 0.40) & Rs 74.38 per litre (decrease by Rs 0.35), respectively. Petrol and diesel prices in Mumbai today are Rs 85.93 per litre (decrease by Rs 0.40) & Rs 77.96 per litre (decrease by Rs 0.37), respectively.
6:12 AM: "Terrorist" mail bombings must be punished to 'fullest extent," says US President Donald Trump: AFP news agency
6:00 AM: Lakhimpur Kheri: Body of a woman was found in Maigalganj police station limits on 23rd October, police say "The postmortem report confirmed rape. Case has been registered. Two teams have been formed. The culprits will be arrested soon." (26.10.2018)