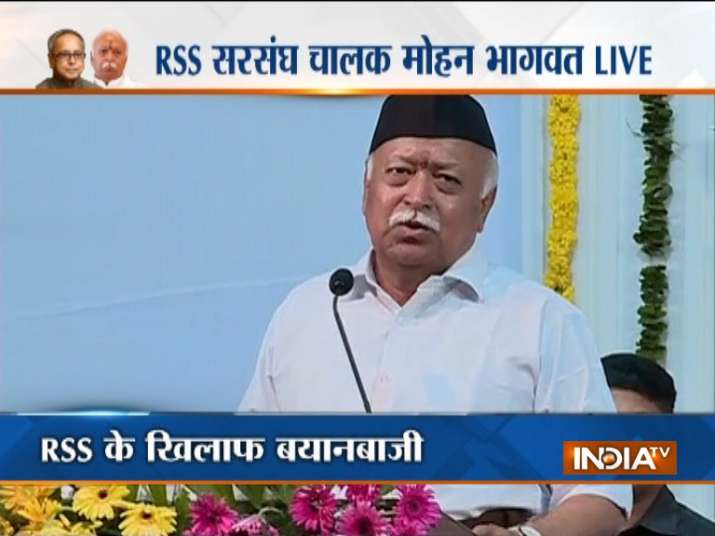 RSS chief Mohan Bhagwat on Thursday said that both the Rashtriya Swayamsevak Sangh and former President Pranab Mukherjee will remain what they are even after the Nagpur event.
"Sangh is Sangh, and Dr. Pranab Mukherjee is Dr. Pranab Mukherjee and will stay so even after this even," Mohan Bhagwat said while speaking ahead of Mukherjee's speech at "Tritiya Varsh Sangh Siksha Varg" event.
Mohan Bhagwat further said that no one was an outsider for the RSS as his organisation wants to unify the entire society, adding the debate over invitation to Pranab Mukherjee was meaningless. 
The RSS chief further said that people may have different views but they are all children of mother India.
"RSS is trying to bring everyone together in the country and not trying to establish itself as a Hindu outfit. No one is alien to us," Bhagwat said.
The RSS chief further said that the govt of a country can do a lot of things but it cannot cover up everything, adding the people of a nation play a very important role in transforming the fate of the country.
Bhagwat added that the Sangh has inviting prominent people to its event every year.
Those present at today's event also included former prime minister Lal Bahadu Shastri's son Sunil Shastri, as also Netaji Subhash Chandra Bose's nephew Ardhendu Bose along with his wife and son. 
Earlier in the day, Mukherjee described Keshav Baliram Hedgewar as a "great son of Mother India' as he visited the birthplace of the RSS founding Sarsanghachalak.
 
"Today I came here to pay my respect and homage to a great son of Mother India," Mukherjee wrote in a visitor's book at Hedgewar's birthplace ahead of his much-anticipated speech at the RSS headquarters in Nagpur.
The RSS was founded by Hedgewar , on September 27, 1925 on Vijayadashami day at his house here. 
The name 'Rashtriya Swayamsevak Sangh' was selected for the organisation on April 17, 1926 from a list of four names -- Jaripatka Mandal, Bharat Uddharak Mandal, Hindu Swayamsevak Sangh, and Rashtriya Swayamsevak Sangh.
 
Mukherjee's daughter and Congress leader Sharmistha had yesterday said her father was giving the BJP and the Sangh a handle to plant false stories with his decision to speak at the RSS event. 
His "speech will be forgotten" but the "visuals will remain", she said on Twitter. She also expressed the hope that the former president would realise how the BJP's "dirty tricks department" works and warned him of the consequences of attending such a meet. 
Some Congress leaders, including Jairam Ramesh and C K Jaffar Sharief, also wrote to him, while a few leaders of the party, including Anand Sharma, personally visited him in a bid to dissuade him from going to Nagpur. 
(With PTI inputs)