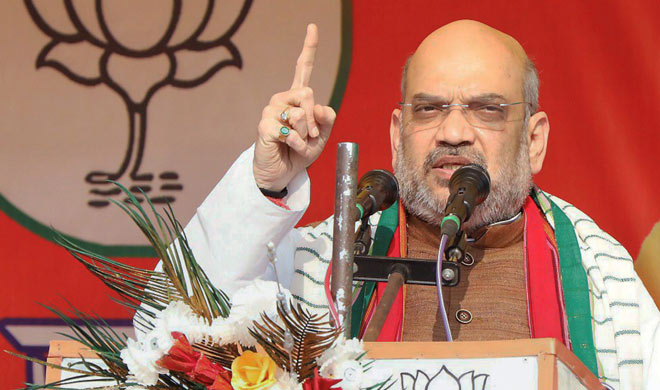 Taking his party's fight against the Congress to the Gandhi family's pocket borough, BJP president Amit Shah on Saturday said his party would rid Rae Bareli, the Lok Sabha constituency of former Congress president Sonia Gandhi, of 'parivarvad' and take it on the path of development. 
Addressing a public meeting here, Shah said Rae Bareli voted for top Congress leaders, but had not witnessed development since Independence. 
"Rae Bareli has seen 'parivarvad' (dynastic politics) ever since Independence till this day and no development...I have come here to make it clear that the BJP will free Rae Bareli of 'parivarvad' and will start the campaign from today itself for taking it on the path of 'vikasvad' (development)," he said. 
Accusing the Congress of pursuing politics of dynasty and conspiracy, BJP President Amit Shah also demanded on Saturday that its President, Rahul Gandhi, apologise for the "saffron terror" remarks against his party.
Shah charged that Rahul tried to bring bad repute to Hindu culture by coining and using terms like 'bhagwa aatankvaad' (saffron terror).
"However dirty the Congress plotted, the courts have brought out the truth," he said, adding even Swami Aseemanand has been discharged of charges of plotting a bomb blast, in a court. 
He also sought an unqualified apology from Rahul on his "diatribe" against the Hindus. "Rahul Gandhi must say sorry to the nation," he added.
The BJP President also claimed that the writing on the wall was loud and clear that in 2019, the National Democratic Alliance (NDA) government will be formed yet again under the leadership of Modi. 
Everyone, even the kids, know the good work the government at the Centre has done in the past four years, he said while announcing that Rae Bareli would be developed as a model region and usher in development and prosperity in the region.
Exuding confidence that the BJP will win the Karnataka assembly election, he said, "The BJP will have its 16th state government in the country after May 15."
Though the BJP swept Uttar Pradesh in the 2014 general election, the BJP lost both Rae Bareli and Amethi to the Congress. 
Barring three exceptions -- 1977, 1996 and 1998 -- Rae Bareli has stood with the Congress since 1952. This time the BJP is out to test Rae Bareli's love for the Nehru-Gandhi family currently represented by UPA chairperson Sonia Gandhi, a four-term MP. 
Amethi is represented in Parliament by Congress president Rahul Gandhi.
arlier, a minor fire broke out at the venue of the public meeting, triggering panic and commotion in the audience. 
The fire, which was brought under control in short time, broke out due to an electrical short-circuit near the media enclosure, officials said. Shah and Uttar Pradesh Chief Minister Yogi Adityanath were present on the dais at the time of the incident. 
State BJP chief Mahendranath Pandey was addressing the gathering when smoke and sparks were noticed. Because of the fire, the programme was stopped for a while.