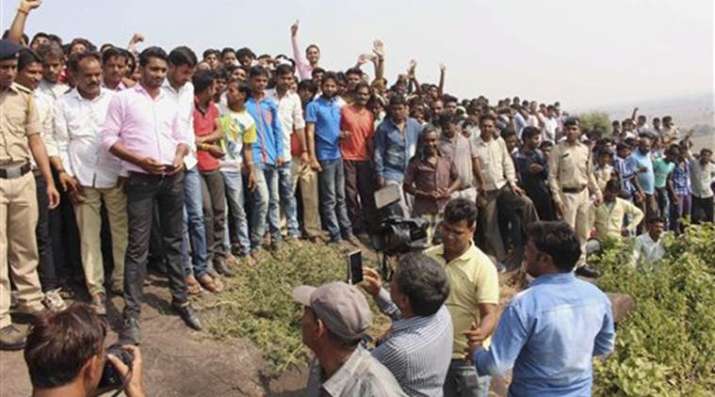 A day after eight SIMI activists were killed in encounter after they escaped from Bhopal Central Jail, hundreds of curious villagers thronged Manikhedi Pahadi, the site where the alleged encounter took place on Monday.
According to a Times of India report, no barricades or policemen were present at the site as people turned it into a virtual tourist spot. The clothes of the escapees, which they wore in the jail and changed after their escape, lay scattered. 
Some of the villagers were even seen standing on the dried up blood on grass and rocks and taking selfies and many of them had brought their kids along.
When questioned about why the encounter scene was left unguarded, additional SP Dharamveer Singh told that physical evidence has been collected and the area has been searched, and only the blood stains remain on the rocks. 
Eyewitnesses told that they had seen the escapees before police and had surrounded them before police reached the spot. 
 

"Humko jo karna tha kar diya, ab mar bhi jayen to toh fikr nahi (We have done what we wanted to, now even if we die there are no regrets)," an eyewitness was quoted by Times of India as saying. 

 
Eyewitnesses who had spotted the SIMI activists told that they looked like normal youths. 
"I spotted them running with sticks in their hands. They didn't look anything out of the ordinary, but later I came to know that they were terrorists," said Maini Singh, a local. 
"The police team that was chasing the fugitives tried to talk to them, but two other police parties flanked them from both sides and killed them. We counted 45 rounds fired by the police in the encounter that lasted around 15 minutes," said an eyewitness. 
Villagers told that the eight SIMI members were possibly trying to make it to a cave in the Manikhedi Pahadi but failed to reach there. 
 

"Hundreds started running towards the hillock. Soon, we started hearing gunshots. Many locals tried to take videos of the aftermath. A few of these videos have since gone viral, but some of them were deleted by policemen on the spot," said a villager.

 
 

"I tried to take a video of the encounter on my cellphone, but as soon as police spotted it, they took my phone and deleted it. Policemen kept my phone with them for the entire day and after repeated requests and apologies, they returned it in the evening," said another eyewitness.