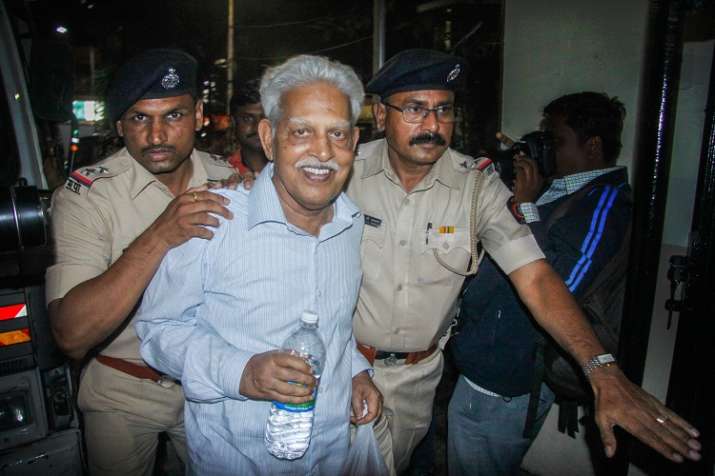 Amid the severe backlash it has been receiving following the arrest of a few activists suspected to have Maoist links, the government has said that as many as 128 organisations believed to be having links with ultras were identified by the Congress-led UPA government in 2012. Some of those arrested by the Pune Police in a country-wide crackdown earlier this week were part of these groups which acted as 'front face' of the rebels. 
"The UPA government had, in December 2012, identified 128 organisations with linkages to the CPI (Maoists) and written to all state governments asking them to take action against people involved with these organisations," a government official said requesting anonymity.
"Seven of those Varavara Rao, Sudha Bhardwaj, Surendra Gadling, Rona Wilson, Arun Ferreira, Vernon Gonsalves and Mahesh Raut arrested so far belong to the organisations appearing in this list," the official added.
While Rao, Bhardwaj, Ferreira and Gonsalves were arrested on August 28, Gadling, Wilson and Raut were arrested on June 6.
Ferreira and Gonsalves, two of the five arrested on Tuesday, were held in 2007 too and they had spent several years in prison. Similarly, Rao has been arrested several times by the Andhra Pradesh and Telangana Police in the past.
The official said what is under investigation in the current case are the linkages of these individuals with the CPI (Maoist), a banned organisation operating with the devious objective of overthrowing democratic order, and the support provided by them to the CPI (Maoist).
"Such individuals cannot escape responsibility for aiding and abetting the violent acts committed by CPI (Maoist)'s underground cadres," the official said.
"The CPI (Maoist), towards achievement of its ultimate objective of seizure of political power through protracted peoples war, attaches immense importance to the urban movement which works towards creation of a United Front in support of their movement," another official said.
The urban movement is the main source for providing leadership and resources to the CPI(Maoist). The responsibility for provision of supplies, technologies, expertise, information and other logistic support is also shouldered by the overground activists in urban centres, the official said.
Since 2001, altogether 6,956 civilians and 2,517 security personnel have been killed by the CPI (Maoist), according to a government figure.
WATCH: Sensational Maoist plant to assassinate PM Modi revealed
(With PTI inputs)