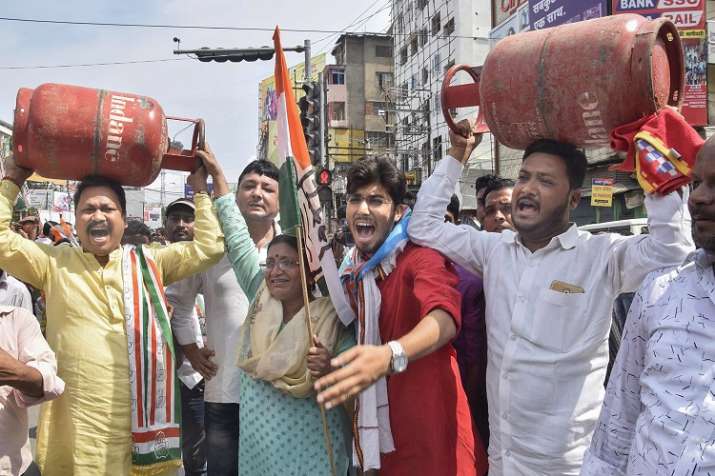 Normal life took a toll in many parts of the country as the Bharat Bandh called by the Congress-led Opposition parties against rising fuel prices turned violent on Monday. Schools, colleges and transport services were hit in parts of the country as protestors burned tyres and vadalised vehicles to block traffic and forced shops to shut down. Trains and buses were targets of stone pelting and arson in at least Maharashtra, Rajasthan and Bihar. According to the protest clarion issued by Congress, the Bharat Bandh intends to raise voice against 'price rise', 'fall' of rupee against the dollar and other issues that 'affect' the people across the country.
Here are the details of the most affected areas:
1. Normal life affected in Bihar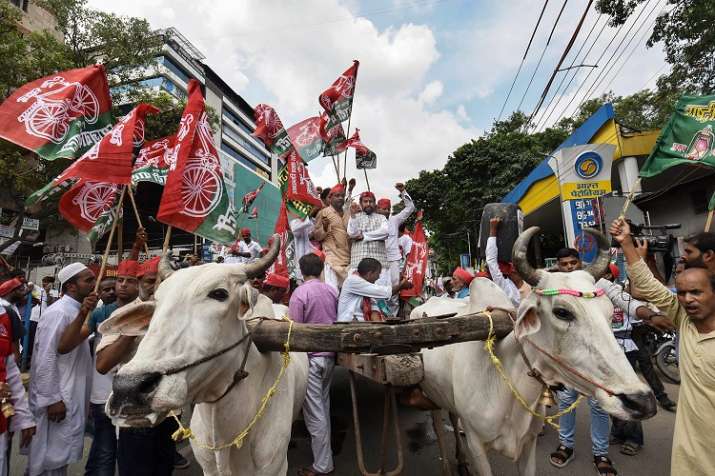 Normal life in Bihar was affected on Monday due to a nationwide strike called by the Congress to protest against the rising fuel prices. The shutdown was supported by the opposition Rashtryia Janata Dal (RJD), Left Parties, Hindustani Awam Morcha (HAM) and Jan Adhikar Party of Pappu Yadav. Hundreds of Congress and other opposition parties leaders and workers took to the streets since early Monday in different parts of Bihar, with party flags and banners of different colours in their hands. They clashed with police at several places while enforcing the shutdown.
Yadav's party workers damaged dozens of four wheelers, buses and two wheelers in Patna. Congress leaders have distanced themslves from this act of vandalism.
Over a dozen long route express and passenger trains were stopped at Patna, Gaya, Bhojpur, Jehanabad, Khagaria, Madhubani, Sagarsa, Darbhanga, Banka, Bhagalpur, Sheikhpura and Muzaffarpur railway stations.
The shutdown supporters blocked national and state highways, disrupted rail and road traffic for hours and stranded thousands of passengers at different railway stations and bus stands. At several places, the activists were seen burning tyres on the roads. 
They also raised slogans against the Central government and Prime Minister Narendra Modi and Bihar Chief Minister Nitish Kumar.
Schools and colleges remained closed across the state. Markets and business centres were also closed.
Additional security personnel have been deployed all across the state to maintain law and order.
2. Opposition stages 'rail-roko' agitation in Mumbai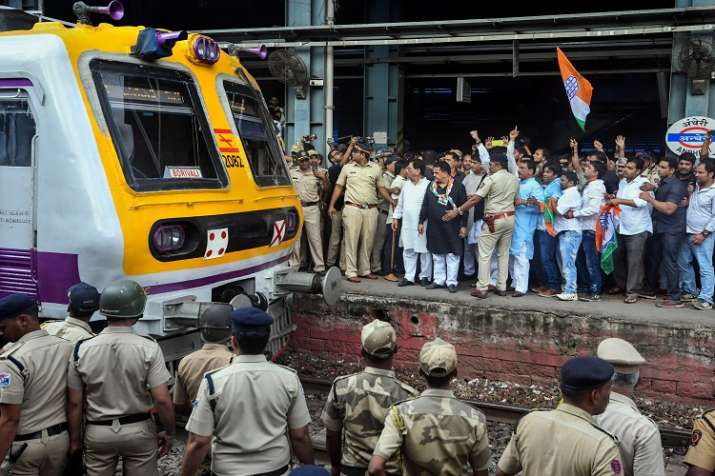 Petrol prices on Monday shot up to Rs 89.97 in Maharashtra's Parbhani, the highest in India. Maharashtra Congress President Ashok Chavan and Mumbai Congress President Sanjay Nirupam led thousands of activists to stage a noisy protest outside the Andheri station bus depot, and later they got down on the railway tracks, shouting anti-government slogans.They staged protest for around 15 minutes before they were taken away by security personnel to the nearby DN Nagar Police Station in suburban Andheri. In Pune, suspected workers of the MNS reportedly vandalised buses to protest the rising fuel prices. Protests were also staged in several other parts of the state, including Manmad, Nashik, Kolhapur, Pandharapur and Virar.
3. Congress activists arrested in Jharkhand
 Fifty eight Congress activists including Palamau district Congress president Jaias Ranjan Pathak were taken into custody for forcibly trying to enforce the bandh. Barring Garhwa district, normal life is not affected in Pakur, Jamshedpur, Ranchi, Hazaribagh, Lohardaga, Gumla, Ramgarh, Giridih, Latehar, Palamau, Dhanbad and other districts, according to reports. Goods trains and passengers trainings are escorted by the police in the state.
4. Dawn-to-dusk hartal over fuel price hike hits normal life in Kerala
While public vehicles remained off the roads in the state, private vehicles were seen plying in many places, while shops, markets and establishments remained shut. In Kollam, agitated Congress workers protested outside the Head Post office, demanding that it should be closed. Complete shutdown seen in Kasargode, the town that shares a border with Karnataka, as interstate buses kept off the roads. While the Congress workers are out on the streets, the ruling Left supporters appear to maintain a low profile and have stressed that relief operations in flood-affected areas will go on unaffected.
5. Normal life hit in Karnataka
Roads in the city wore a deserted look since morning as government buses, private taxis and most of the autorickshaws did not ply. Business establishments, shops, malls, certain private enterprises remained closed. In Mangaluru, incidents of stone pelting at hotels and shops, which remained open, were reported. BJP state chief B S Yeddyurappa condemned the shutdown and called it a conspiracy by the coalition government of the Congress and JD(S) for forcibly making the bandh successful.
6. Train services largely affected in West Bengal
The train service in Sealdah and Howrah section under the Eastern Railway was temporarily disrupted as the strike supporters blocked rail movements in Jadavpur and Sreerampur stations. However, they were removed by the police within half an hour. No untoward incidents of violence or clashes were reported.
7. Bharat Bandh evokes mixed response in Telangana
Bus services affected since early morning in both the Telugu states. Many private educational institutions remain closed. Activists of the Congress and the Left parties launched a sit-in at the depots of state road transport corporations to prevent buses from plying on the roads. Raising slogans against PM Narendra Modi and the BJP, the protestors took to streets, staging road blockades and organising rallies.
8. Train services affected in Odisha
Train services were disrupted in many places of Odisha as Congress workers blocked railway tracks to enforce the 'Bharat Bandh' called by the party to protest rising fuel prices on Monday.
The party workers staged dharna and blocked railway tracks in many places including Bhubaneswar, Khurda Road, Puri, Berhampur, Sambalpur and Balasore to enforce the bandh from 6 am to 3 pm.
At least 10 trains were cancelled in the jurisdiction of the East Coast Railway (ECoR) in view of the 'Bharat Bandh', an ECoR official said.
While several trains were delayed due to the 'rail roko' in different places, a large number of passengers were stranded at railway stations, officials said.
Vehicular movement also came to a grinding halt in many places as Congress workers resorted to road blockade at various junctions in places such as Bhubaneswar, Cuttack, Sambalpur and Khurda, they said.
Commuters were stranded in many places as buses, taxis and autorickshaws stayed off the roads due to the bandh.
In state capital Bhubaneswar, Congress workers staged road blockade at many places disrupting movement of vehicles on the National Highway through the city.
The impact of bandh was also felt in the tourist destination of Konark as bandh supporters locked the ticket counter of the famous Sun Temple. As a result, a large number of tourists failed to visit the monument, officials said.
Several senior Congress leaders staged a sit-in at the Master Canteen Square near Congress Bhawan during the strike.
Shops, markets, business establishments and educational institutions remained closed across the state during the 9-hour shut-down, while attendance was thin in offices. Employees were seen reaching banks and offices early in the morning.
The situation remained peaceful as elaborate security arrangements were made as a precautionary measure, a senior police official said.
Emergency services including ambulance, medicine shops and vehicles carrying milk have been kept out of the purview of the bandh.
Examinations scheduled for the day were cancelled by the Biju Patnaik University of Technology (BPUT), sources said.
Describing the bandh as a "complete success", Odisha Pradesh Congress Committee (OPCC) president Niranjan Patnaik said people extended their spontaneous support to the strike as they are hit hard by the hike in the prices of petroleum products.
Patnaik said, Congress MLAs were not attending the Assembly during the bandh.
The PCC chief said they also called upon the ruling BJD to suspend the proceedings of the Assembly till 3 pm if it sincerely opposed the prices hike of petrol, diesel and cooking gas.
BJD spokesperson Samir Ranjan Dash said the ruling party has been protesting fuel price hike. The BJD held protests near petrol pump outlets against the hike, he said.
The Left parties including the CPI, CPI(M), CPI(ML), Forward Block, SUCI and other outfits also observed a 'Hartal' on Monday conciding with the Congress strike. 
9. Bus services hit in Himachal Pradesh
Private bus operators across the state joined the day-long protest, demanding a hike in bus fares. There was a partial shutdown in Solan, Dharamsala, Kangra, Palampur, Mandi, Rampur, Kullu and Una and Hamirpur towns.
10. Bharat Bandh evokes mixed response in J-K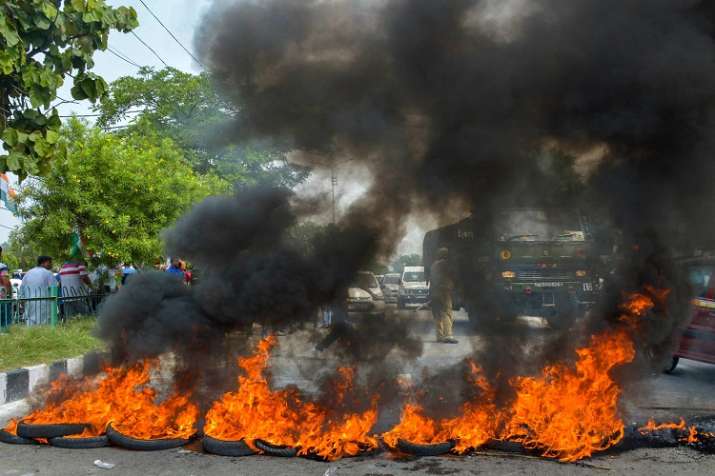 A day-long Bharat Bandh or nationwide shutdown called by the Congress and Left parties to protest rising fuel prices evoked mixed response in Jammu and Kashmir on Monday.
In Jammu, Congress activists protested in R.S. Pura area while shops, public transport, businesses and educational institutions functioned normally in the city.
In Srinagar and other district headquarters of the Kashmir Valley, there was no response to the shutdown.
Residents however,expressed anger at the rising prices.
"Petrol prices have touched a record high. Even using my scooter has become a luxury," said Irfan Bhat, a government employee.
Another resident said: "One has to plan in advance whether to go to social functions in his vehicle or not." 
11. Educational institutions, business establishments closed in Arunachal Pradesh
Normal life was affected in Arunachal Pradesh on Monday by the Bharat bandh called by the Congress to protest the rising fuel prices.
All shops and business establishments including banks and educational institutions were closed in the state and private vehicles were off the road.
In the state capital about 100 Congress activists including Mahila Congress workers, Youth Congress president Geli Ete and Arunachal Pradesh Congress Committee (APCC)secretary John Taksing were arrested by police, a police officer said.
The protesters burnt tyres in many places in the state capital and in various other places to block roads, Superintendent of Police, Itanagar, M Harsh Vardhan said.
AICC general secretary Jarjum Ete alleged that the SP used abusive language against several Mahila Congress activists and a complaint would be lodged against him with the DGP.
However, the SP denied the allegation saying that after repeated pleas from him the party resorted to pelting stones and created law and problem situation much before the bandh timing.
"Being a responsible party, such activities are not expected from the Congress," the SP added. Arunachal Pradesh Congress Committee president Takam Sanjoy claimed that the bandh is total and peaceful.
The SP, however, said many shops and petrol pumps are open.
12. Bandh affects normal life in Assam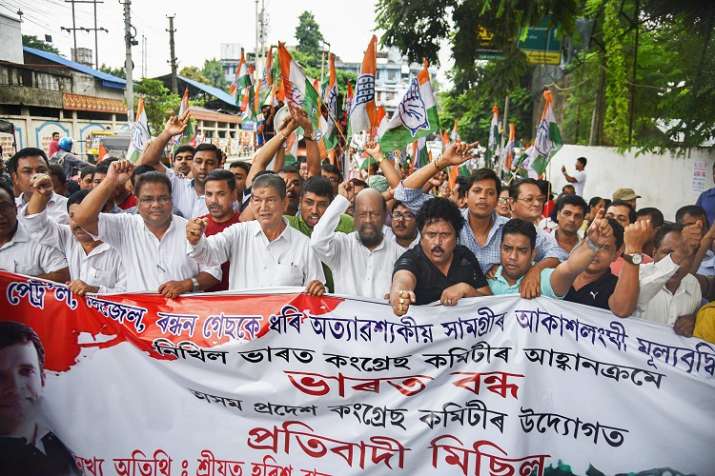 Normal life was hit in BJP-ruled Assam Monday by Congress' six-hour 'Bharat Bandh' to protest "rising fuel prices, inflation and a weakening of rupee".
Congress workers attempted to stop movement of trains by squatting on the railway tracks and tried to block national highways and main roads across the state by burning tyres and setting up bamboo barricades, police said.
In Guwahati, Assam Congress president and Rajya Sabha MP Ripun Bora along with party in-charge for the state Harish Rawat led hundreds of sloganeering party workers during a rally this morning. The protestors tried to forcibly enter the state secretariat, officials said.
However, they were prevented by the police and security forces from entering the secretariat. The protestors were taken into preventive custody for violating section 144 of CrPC and for not giving prior information to the authorities about their protest rally. The agitators were later released, officials said.
Some private buses were stoned in Guwahati's Adabari area, police reports said.
Several agitators were picked up from various places in the state for blocking roads and attempting to shut shops but they were released later, the reports added.
The bandh affected transport facilities in the state as private long distance and city buses kept off the roads, officials said. Vehicles travelling on highways moved in convoys with police escort, the police reports said.
School, college students as well as officer-goers using public transport faced difficulty due to non-availability of transport facilities, official sources said. Government-run buses, however, operated as usual, the sources added.
Shops and business establishments in many places, including in several parts of Guwahati, remained closed, police reports said. 
(With inputs from PTI)