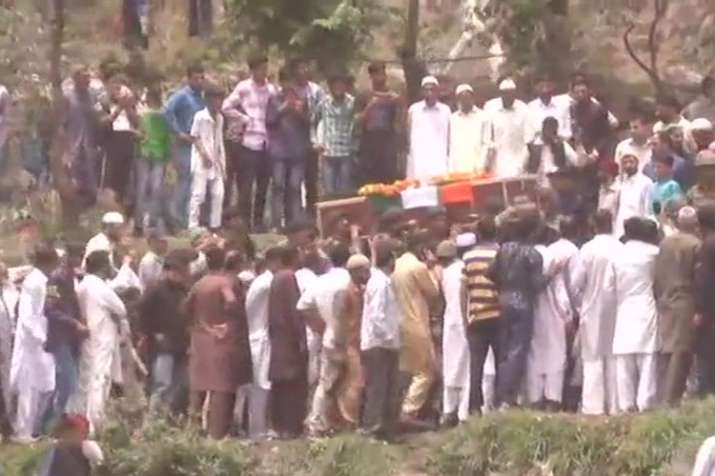 An atmosphere of palpable grief and anger enveloped the village of 44 Rashtriya Rifles jawan Aurangzeb when his mortal remains arrived at his native village in Poonch . Hundreds of people were present to bid a final goodbye to their hero on Saturday, who was abducted and killed by terrorists on Thursday (June 14) while on his way back home for Eid celebrations.
Angry villagers demanded an immediate action against the terrorists involved in the dastardly attack on Aurangzeb who himself was part of Army special unit which eliminated several top terror commanders in the Valley.
"My son has abided by his pledge, he has kept his promise. He sacrificed himself for the nation and came back to me. I request the central and state governments to eliminate militancy," Aurangzeb's father Mohammad Haneef said. 
He had earlier given a 72-hour ultimatum to the government to seek and kill those who were involved in the attack on his son.
"Am giving Narendra Modi 72 hours for avenging my son's killing, otherwise we are ready to take revenge on our own," Aurangzeb's father said.
Jammu & Kashmir: Mortal remains of Rifleman Aurangzeb brought to his native village in Poonch. He was abducted by terrorists and his body was found in Pulwama's Gusoo, on 14 June. pic.twitter.com/wplrkxDFRF

— ANI (@ANI) June 16, 2018
Earlier, militants released a video of Aurangzeb whose bullet-ridden body was recovered from Gussu village, about 10 km away from Kalampora, in Pulwama district on Thursday evening.
The  1.15 minute video, which appears to have been recorded before he was killed, shows Aurangzeb responding to questions of his kidnappers bravely.
Watch: Anger, grief envelopes Aurangzeb's village during his final rites