Follow us on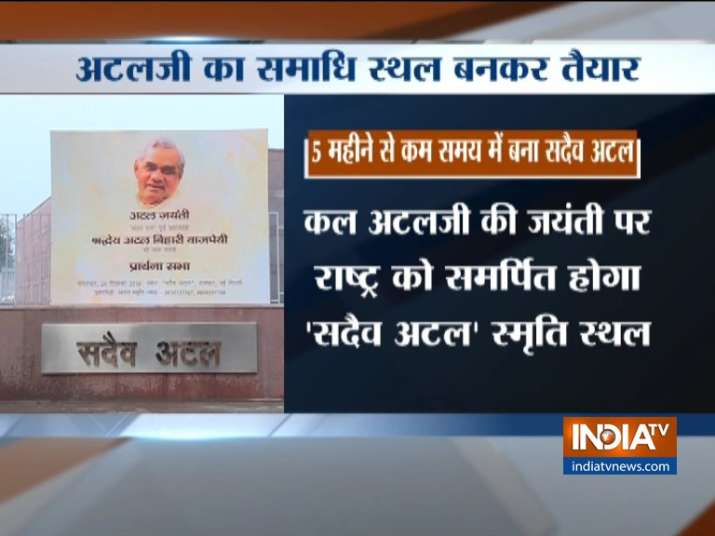 Former prime minister Atal Bihari Vajapeyee's memorial will be inaugurated on his birth anniversary on Tuesday. Prime Minister Narendra Modi and President Ram Nath Kovind will join several other dignitaries during the prayer ceremony, to be held at New Delhi's Rashtriya Smriti Sthal, the site of the memorial. 
The memorial, christened as 'Sadaiv Atal' has been built by CPWD at a cost of Rs 10.51 Cr. A vacant piece of land has been made available near Rajghat for the Samadhi by the Govt, which the Society would develop and maintain at their own cost as a public place. The earmarked land for the Samadhi will continue to remain with the Government.
The Sadaiv Atal is spread over 1.5 acres of land and was site of former prime minister's last rites on August 17. The memorial has been built to highlight various talents and personalities of the former PM, including the poet, humanitarian, politician and leader. 
The memorial has been funded by Atal Smriti Nyas Society. 
The central Samadhi platform comprises of nine square black polished granite solid stone blocks, capped with a 'diya' in the center. The number nine holds significance and represents the navarasas, navaratras and navagrahas. The placement of the nine square Samadhi is in a circular lotus shaped pattern.  The nine-square platform is accessed in four cardinal directions by pathways made in white composite tiles so that the floor does not get heated.  The Samadhi is enclosed by nine bas-relief walls which have inscriptions of the prose/ poetry of the former PM which can be read by the visitor while taking a pradakshina on the outer circular path.
Stones from various parts of the country-- emphasizing unity in diversity have been used in the construction of the Samadhi. The Main Samadhi stone is monolithic zed black sourced from the best quarries of Khammam, Telangana. The parikrama area is laid in white composite tiles, which does not get heated in the sun. Diya, which is centrally placed on the top of Samadhi is made up of leather finish black granite sourced from Khammam and the flame of Diya is made in Crystal with LED lights placed inside. The inner petals, the outer petals and the area in between the intersection of petals which form a part of outer parikrama are laid in colour composition of Crystal Yellow and Neo Copper granite which are sourced from the best quarries of Abu Road, Rajasthan. Pathways are laid in leather finish black granite.
The former prime minister and BJP stalwart had passed away on August 16 after a prolonged illness. He was cremated with full state honours on August 17. 
Watch full story on Aaj ki Bata with Rajat Sharma: