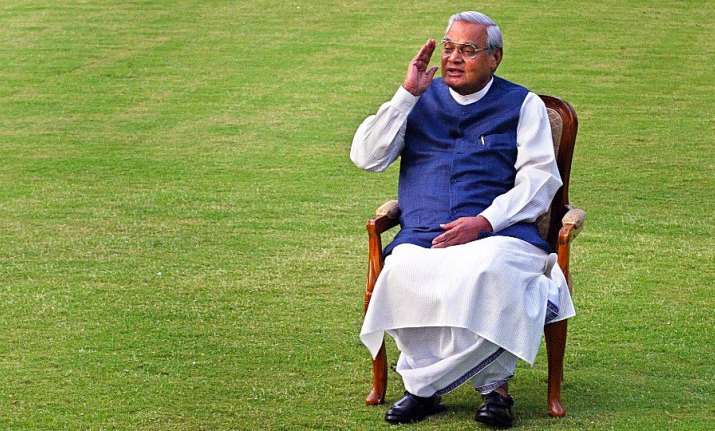 The All India Institute of Medical Sciences(AIIMS) on Tuesday said that former Prime Minister Atal Bihari Vajpayee was responding well to his treatment at the hospital for urinary tract infection. 
"His condition is stable. He is responding to treatment and is on injectable antibiotics. All his vital parameters are stable. He will continue to be in hospital till infection is controlled," AIIMS said in a statement Tuesday morning.
"Vajpayee is stable. He continues to respond well to treatment and is being monitored closely by a team of doctors," the hospital reiterated in a late evening update.
According to PTI, a team of doctors, under the supervision of AIIMS Director Randeep Guleria, evaluated his condition on Tuesday. Guleria, a pulmonologist, has been a personal physician to Vajpayee for long.
The former prime minister underwent dialysis on Monday and continued to remain in the ICU of the cardiothoracic centre of the All India Institute of Medical Sciences (AIIMS), PTI quoted its source as saying.
RSS chief Mohan Bhagwat, former prime ministers Manmohan Singh and HD Devegowda, Health Minister J P Nadda, Minister of State for Health Ashwini Kumar Choubey, former Union minister Kalraj Mishra, Minister of State for Law P P Choudhary, BJP leader and Union minister Sadhvi Niranjan Jyoti, and Union Minister Anant Geete were among those who visited Vajpayee on Tuesday.
Prime Minister Narendra Modi visited Vajpayee at AIIMS on Monday evening and stayed there for about 50 minutes. He interacted with Vajpayee's family, spoke to doctors and enquired about the former Prime Minister's health.
Congress president Rahul Gandhi had also visited Vajpayee at AIIMS on Monday.
Several leaders across the country wished Vajpayee a speedy recovery.
"Prayers for a speedy and complete recovery of Atal Bihari Vajpayee. A gentle and a fine person that he is, he continues to motivate us through his timeless speeches and poems," Defence Minister Nirmala Sitharaman tweeted.
Rashtriya Janata Dal (RJD) leader Tejashwi Yadav said: "I prayed for the fast recovery of Vajpayeeji. May God keep him healthy and give him a long life." Andhra Pradesh Chief Minister N. Chandrababu Naidu also prayed for his good health.
Union Minister Arun Jaitley tweeted: "We pray for speedy recovery of Atal Bihari Vajpayeeji, he has been a guiding light for the whole country."
93-year-old Vajpayee is a three-term prime minister. He was Prime Minister briefly in 1996 and then took oath as PM for two terms between 1998 to 2004.
Watch: Vajpayee responding well to treatment, says AIIMS