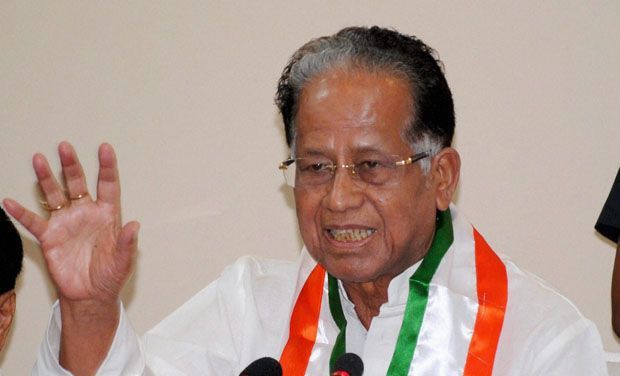 Terming the complete draft of the National Register of Citizens (NRC) "defective", former Assam chief minister Tarun Gogoi  on Tuesday claimed that most of the over 40 lakh people excluded in the list are Indian citizens.
The Congress in Assam has never won polls on the votes of Bangladeshi people, Gogoi said, asserting both he and the present chief minister have won elections held on the basis of the same voters' list.
The senior Congress leader admitted that illegal Bangladeshi people are residing in Assam, but said their number is much less than the 40 lakh figure mentioned in the
complete draft of the National Register of Citizens (NRC).
"This is not a full proof NRC. It has leakages. It is defective. Most of these 40 lakh people are Indian citizens," he said a day after release of the document that excluded over 40 lakh applicants. 
"The government should provide legal aid to these excluded people. From the Congress party, we are going to help them in every possible way. It is not correct to consider these people as foreigners," Gogoi said.
He said many people declared as foreigners by the Supreme Court have been included while names of some people living in detention camps for foreigners featured in the list.
He questioned the state government's stand of "not" treating anyone as foreigner during campaigning for 2014 Lok Sabha polls and 2016 assembly elections though the BJP had claimed presence of huge number of Bangladeshis in Assam 
"If those 40 lakh people are not to be treated as foreigners, then where are the foreigners? And if the foreigners are excluded, then why don't you take action? If
the NRC does not indicate anything, then is it not a waste of resources?" he asked.
Asked if excluding 40 lakh people from the draft will leave any impact on the Congress' vote bank, he replied in the negative saying his party had never won on Bangladeshi votes.
"(Sarbananda) Sonowal became chief minister on the basis of the same voters list, on which I won. So, if I won with foreigners' votes, then so did he," he said.
Gogoi also referred to the affidavit submitted by his government before the Supreme Court that voters' list till 2014 should be included in the NRC.
"If we are rejecting the 'D' voters from the NRC based on 2014 and 2016 voters' list, why are we not accepting it as a basis for inclusion?" he added.
The former chief minister also alleged that the BJP is trying to deflate the basic intention of the NRC by creating "confusion" about cut-off date to declare people as foreigners.
"The official stand is 1971. Your (BJP) minister wants to make it 1951. Your Citizenship (Amendment) Bill, 2016 says foreigners coming till 2014 will be (treated as) Indians. What do they want to do in Assam? Are they having any clarity about it?" he asked.
Asked about West Bengal Chief Minister Mamata Banerjee's statement that Indian citizens have become refugees in their own land, Gogoi said, "Mamata is doing politics. Let her do it in Bengal."
On border fencing, the newly inducted Congress Working Committee member said: "Why is the border fencing not completed? The NRC is for identifying foreigners. But what has been done to stop the infiltration?"
(With PTI inputs)